Heather Morison of Ice and Fire Holidays in Les Coches, La Plagne gives us her top tips for taking younger children away for a ski holiday.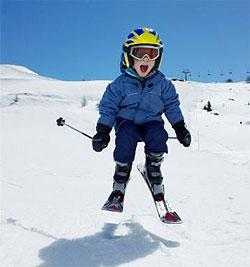 Many skiers, from professionals, like Chalets Direct-sponsored Sam Clissold, to amateurs with more enthusiasm than technique like myself, can trace their love of skiing to childhood memories of the sport.
Taking young children skiing for the first time is neither cheap nor easy, but get it right and you'll hopefully have a brood of enthusiastic ski buddies to share your passion with . . . .at least until they can out-ski you that is!
Choose your accommodation carefully and make sure that it is suitable for the children. There are plenty of tour operators out there with "child friendly" written on their website but take the time to ask specific questions to see if they will suit your children. Alternatively why not post your requirements up in the solutions room and let the responses come to you.
For younger children check if there are there stair gates, cots, highchairs and baby monitors. For older children ask about a tv/dvd/games console/selection of books and games and whether there is a playground or sledging area nearby. In catered chalets or hotels, check if it is possible to serve an earlier dinner for the children.
Book the children ski lessons. It doesn't matter if you are the most experienced skier in the world, your children will listen more carefully to a ski instructor telling them to bend their knees than to their dad. The ESF will take children from the age of three, and most other ski schools from the age of four. Make sure that you choose a ski school with a good reputation and meet the instructor on the first day.
Pack for the cold. Although it sounds obvious, make sure that they have as much warm clothing as they need – I've lost track of the number of times I'm seen a crying child on the slopes with no gloves on! All-in-one ski suits, mittens and hats which you can tie on are especially good for younger children and snow boots are a must for any age.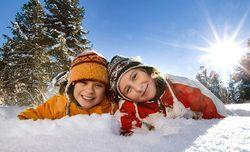 Don't expect too much. Very few under 6s will manage more than two hours on the slopes, and for the majority of older children a morning or an afternoon at a time will be enough. Most ski companies can arrange a crèche place or private nanny to look after the children for half days. Alternatively, why not spend some time as a family – an afternoon spent sledging is a surprising amount of fun!
Ice and Fire offer family friendly ski holidays in the alpine village of Les Coches, Paradiski.