With a dollar exchange rate which is currently pretty attractive for European travellers Helen Brown of Chalets USA tells us what's great about skiing in the Rockies!
Why do we love to ski in the Rocky Mountains USA?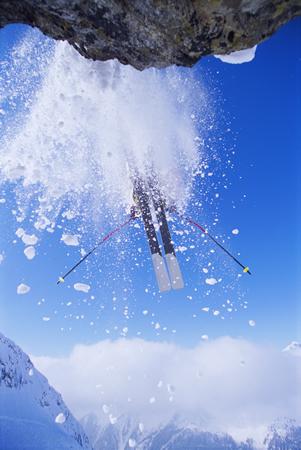 "The powder!" you hear the locals cry and yes the knee to thigh deep fluffy powder snow is incredible, but there are all sorts of other elements to the USA ski experience which bring visitors flocking to Colorado ski resorts from all over the world...will you love it too?

Snow, snow, snow...

Ski resorts in the Rockies are famous for their powder snow - light fluffy flakes that feel like skiing on air. Steamboat Springs coined the term "Champagne powder" from the delicacy & lightness of the snow & its bubbly namesake.
"Powder days" are special & many local businesses will even shut for a few hours to let their employees "shred the pow" if there's over 8 inches of powder snow over night...and yes it happens quite a few times each season! Knee or even thigh deep powder is common and you'll hear skiers & riders whoopdy-doing down the mountain as they float along with just their ski tips poking through the snow.
Big snow
Ski resorts in the Rockies get a lot of snow! Year after year snow conditions are pretty reliable & the snow total averages are impressive - Jackson Hole gets 459 inches (1166cm) on average, Breckenridge 300 inches (762 cm) & Winter Park  348 inches (884cm).
So what's the skiing like?
Wide pistes
Wide open motorway pistes are great for beginners & intermediates to master their turns without feeling like they're going to careen over a cliff.
Good visibility
Most of the ski runs in Colorado (except the bowls) are lined by trees which gives you good definition & helps you see even in low light & when it's snowing - whiteouts are rare here.
Off piste in bounds skiing
In many US resorts there tends to be a ski boundary around the whole ski area & anything within that can be skied (avoid closed areas of course & only ski terrain appropriate to your ability level). So in the USA you can pop off the ski run into the powder at the side of the run, nip in & out of the trees or make your own route between runs. It's pretty much all in bounds, making the ski area twice as big as it seems. 
Bowls
So to the bowl skiing - huge wide open, in-bounds, bowls with off piste conditions, often plus some groomed runs, can be found in many resorts - Vail has its 7 bowls, Aspen has its Highlands Bowl, Beaver Creek Larkspur bowl & Breckenridge its Imperial Bowl as well as peak 7 bowl, Winter Park has Parsenn Bowl, plus Jackson Hole has Rendezvous & Laramie Bowls.
Yes some of the bowls are advanced / expert skiing, but there are also blue bowl runs, ideal for intermediate skiers to improve their off piste skills.



Iconic Runs
Vail is famous for its Back Bowls & Blue Sky Basin, Aspen for its Highlands Bowl & Ruthie's Run, Beaver Creek for its Golden Eagle Birds of Prey downhill course &  Jackson Hole for Corbet's Couloir. For keen skiers these are "must ski" runs & not to be missed!
Yes you need to be pretty good (and pretty brave!) to attempt Corbet's Couloir, but intermediates can definitely give blue Ruthie's Run in Aspen or some of the blue runs in Vail's back bowls a try.
Ski lifts
Rest your legs
Most of the ski lifts in the major resorts are chairlifts or gondolas, so you can rest your legs between runs. Poma / draglifts & T-bar's are rare, so you can avoid achy legs and not have to worry about falling off half way up the lifts.
Orderly queues if any
Many times you'll ski in the Colorado resorts without having to queue for lifts at all, especially during the week. On the whole lift queues in the USA are orderly, with skiers / riders politely alternating taking turns to get on the lift from left & then right. Unlike Europe you tend not to have little kids or angry Frenchman (!) barging in front of you to get onto the lifts.
Uncrowded slopes
Especially on weekdays the slopes tend to be pretty quiet & uncrowded, leaving you free to whizz at top speed down that run or wind your way gently down through the glades at your leisure.
Service with a smile!
The Americans are hugely customer service orientated and will greet you & be friendly at every opportunity. The "lifties" help you get on the lifts & have a chat, staff at your lodging ask about your day & want to make sure you know about the latest great restaurant or event. They all just want you to have a great ski holiday...
Many of the luxury hotels / apartments have ski valets, who will bring your gear to the slopes & even help buckle your boots for you if needed!



Spacious accommodation
Well they say everything is bigger in the USA and to some extent its true. Accommodation in the USA tends to be a lot more spacious than in Europe and often homes includes rec rooms with pool table / table tennis / full size bar, family rooms with big screen TVs and even home cinemas complete with stadium seating in leather, reclining chairs & projector screens.
Restaurants
Yes the portions are bigger! The Americans are pretty used to eating out regularly as in several times a week, so you'll find a large variety of restaurants in resorts and often many affordable options which are pretty decent. The huge portions mean you can share dishes to keep the cost down or it really is the norm to take a doggy bag home, perfect for a snack or lunch / dinner the next day.
Ask us about skiing in the USA
We first skied in Colorado USA back in 2001, fell in love with the snow, ski resorts & people, moved here & never looked back.
We're thrilled to be able to share this fantastic USA ski holiday experience with our guests from all over the world, so if you haven't already, it's time to give it a try...
Happy Skiing!