Waiting for the train at Secretariat station, Colombo. In rush hour the station would fill up really fast and getting on the train was a challenge! Fujifilm X-T1 panorama, 18mm lens.
We spent a month in Colombo, the capital of Sri Lanka  in late 2015. I am a bit late with posting all these pictures, but you know, better late than never, all good things to those who wait! Truth is, I really like the shooting but I am no fan of any kind of organising and post-processing so a trip like Sri Lanka will sit for a long time on my harddrive until I actually dig into the images and see what I made. I also like to have distance to the pictures, I need some kind of disconnect almost. I might have loved how the image looked at first when I loaded it into Lightroom shortly after shooting it, but at that point the fresh experience still colours my judgment. Months later I can look at the image again and see whether I still like the actual picture or it is really just that I like the memory of the experience of making the picture. All of this to say, a bit late but here are a lot of pictures from Colombo, Sri Lanka!
These are just random pictures I shot at random times on random days with no purpose at all except to shoot – sketching. It seems to be rather rare that I do this nowadays, shooting pictures without any real purpose, no deadline, no client. It is refreshing to be sketching images, shooting at random. I need to do it more, shoot and write as if there is no audience, but that is a hard thing to get back to I find.
After a lovely 3.5 hour flight from Singapore to Colombo with Sri Lankan airlines, we were then introduced to Sri Lanka traffic! A chaotic grid locked mess of cars, trucks, 3-wheelers, scooters and people. It took us only 3.5 hours to fly there but then it took 2 hours in a taxi to get to our home for the month! We rented a wonderful flat in the suburb of Dehiwala, south of central Colombo. The flat was very close to the sea, and the huge balcony had a most amazing view. It was quiet and peaceful and a wonderful base for exploring the loud and chaotic Colombo. For a country boy like myself, I need a quiet base to deal with any big city.
From our flat we could actually see the trains running up and down the coast. The train runs right next to the ocean, which results in an incredible train riding experience. Unfortunately, it is also the scene for the worst single train accident ever when the tsunami hit the coast in 2004. It is impossible to ride this train line and not look at the ocean with some kind of fear.
After a few days of settling in, we jumped on the train one Saturday afternoon and kick-started a new train addiction. Charlene was shooting promotional images using our pre-production Fujifilm X-Pro2 camera (see her amazing images here) and the train experience and the life around the trains, on the stations, in the shanty towns on the coast became our project. We would get on the train at all kinds of hours and sometimes find the train almost empty, sometimes so packed with people hanging on the outside of the train, that it was hard to even breathe. This required overcoming quite a lot of fear of small crowded spaces for this country boy, the train rides home in rush hour were sometimes a nightmare.
Charlene would shoot from inside the train, she would hang out the doors or with her head sticking out the window and as always I would often shoot her! One day at Colombo Fort station we met a lovely elderly man who told us that the trains are 50 year old trains from Romania. When he learned I was from Denmark, his face lit up in a smile, turns out he has a sister living north of Copenhagen. The sound these 50 year old metal beasts make is ear shattering and impossible to describe, I am kicking myself for never recording it. If you get a chance, you definitely must try a ride on the trains of Colombo. After the train ride, I suggest a ride in a 3-wheeler, then you have really lived! Nothing like the feeling of staring straight into oncoming traffic, sitting in the back of a 3-wheeler that is driving at high speed on the wrong side of the road!
We spent some time walking around Colombo central, and also around our local neighbourhood. Walking is not really something the city caters for unfortunately and also, it was insanely hot and humid. To go anywhere was a mission, usually requiring a train ride or a 3-wheeler ride in insane traffic. The people we met were really nice and no one seemed to really mind that we were shooting pictures. Mostly people were just curious of the two gypsies. Food was fantastic! Coffee was non-existent! Except in the fancy expensive cafes, so I probably had 6-7 real cup of coffees in 4 weeks. For someone who usually has 2-3 cups every morning, I was like a crack addict doing a cold turkey.
A crack addict without crack on some days, then getting crack on other days is what travel is at times (not that I have done crack but I have seen movies!). I have traveled in Asia extensively, and lived long periods of time in several cities, in Singapore most of all of course. There are huge differences from country to country in Asia, but I am going to generalise greatly and say that a lot of Asia quite often represents the best of everything and the worst of everything – at the same time. There are not many other places in the world where I can have the feeling of "I love it here" and "I hate it here" simultaneously! It is never easy, it is demanding. You have to want it, many things will be a struggle and often an uncomfortable one at that. But as it is with anything requiring an effort, it can also be really rewarding. That is what is so fascinating, and what drives me away and also what keeps me coming back. Colombo was like this, many charms and awesome things mixed with things that makes me never want to return. The train rides we took were a perfect representation, I both loved and hated them.
We live as nomads, so we travel more to live in a place and experience everyday life, not to see an entire country on a whirlwind 2 week tour. This time we got to know a slice of life in Colombo and I will return some day, I really want to explore more of this fascinating island.
§
PS. One more thing I will always remember Dehiwala for: our flat was the place where 6 months of work through many countries finally came to an end as I finished and released my ebook about music photography – Get In The Loop. We celebrated that special day in town with dinner and drinks and then a massive storm hit us! The final image in this post was made from inside the 3-wheeler that took us home on that night through an epic downpour. We arrived home, safe, mostly dry and high on ebook release and exhaust fumes!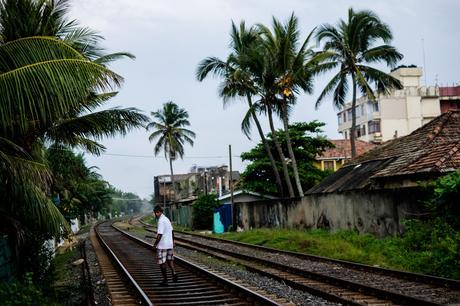 The train runs along the coast, just a 2 minute walk from our flat, and the tracks are completely accessible and used as a walking path too.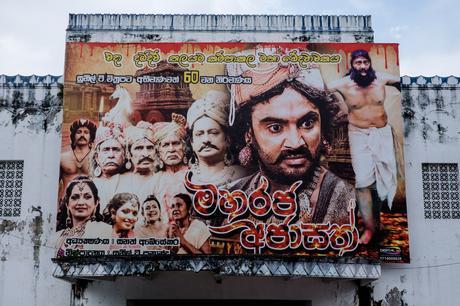 A poster at a local cinema. I regret never going to see a movie here, the poster is epic!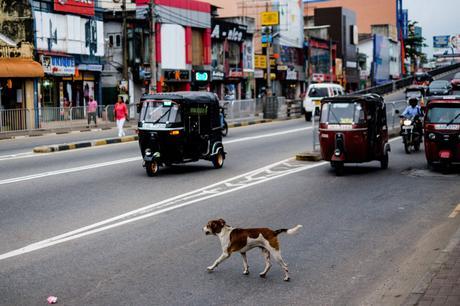 In Colombo, the dogs have a lot of street smarts! This one carefully looked both ways, waited and then made a perfect stride across the street in heavy traffic. This dog was much better at navigating the traffic than farm boy here!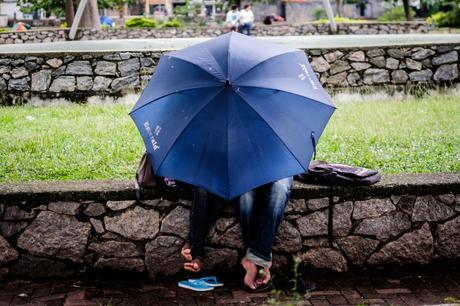 Public display of affection is not something you do, so a nice big umbrella comes in very handy!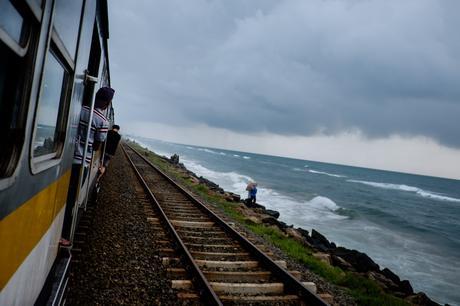 At times you can almost jump into the ocean from the train. It is a fantastic experience, and humbling, look at that threatening storm and ocean.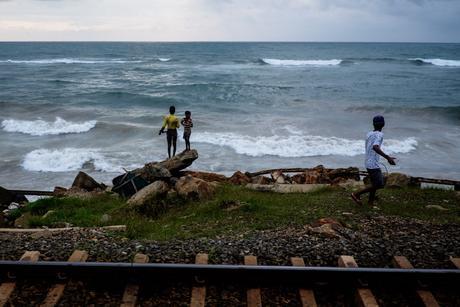 All up and down the tracks kids are playing, people hang out, fish, swim, and just use the tracks as a walking path.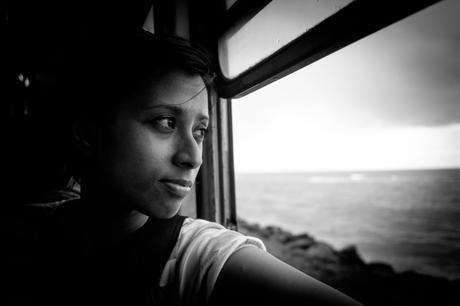 One of my favorite portraits of The Magic One.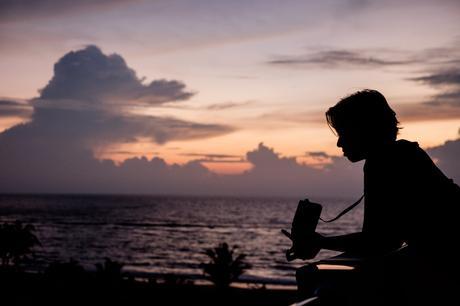 The view from our balcony at sunset. A perfect haven from the chaos and noise of Colombo.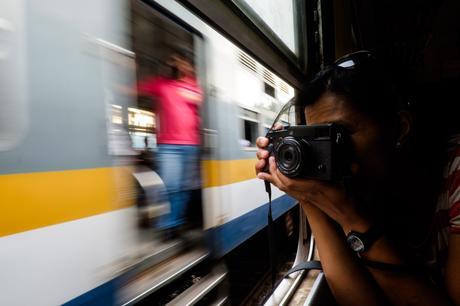 Charlene making some wicked pictures with the Fujifilm X-Pro2 while another train blasts right by us.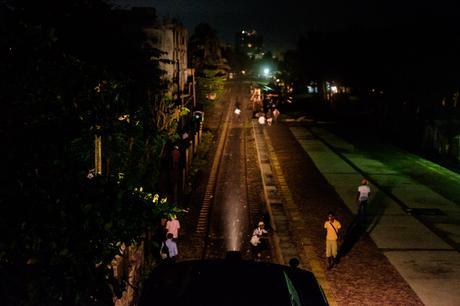 Dehiwala station at night. Lit up by the train, people climb up and down the station to get to the train, or go home. Fascinating scene that unfolded at every station, all the time.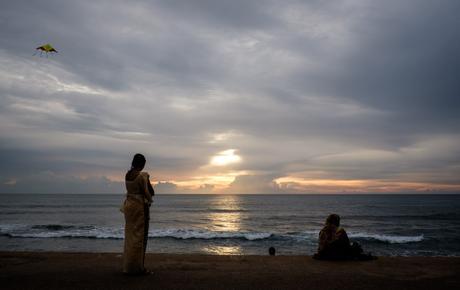 At Galle Face in Colombo. This kind of image is really too easy, but hey, gotta shoot it anyway!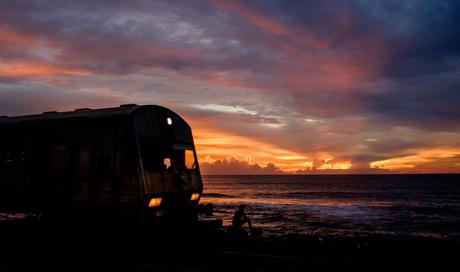 One of the best sunsets we saw, completely with moving train and a lone person staring at the sun, award winner!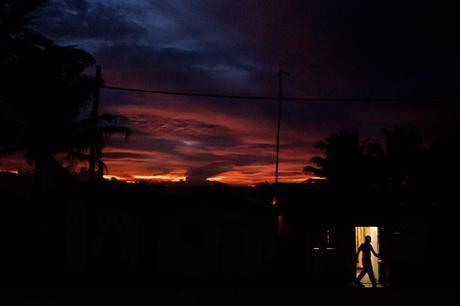 One of my favourites. From Dehiwala station, the person is actually opening a door to a hut in the shanty town next to the station.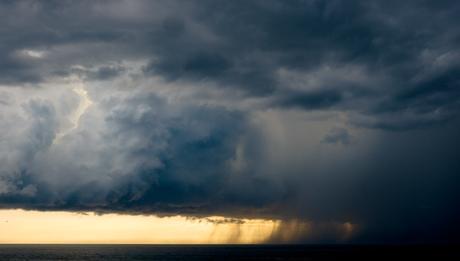 When the rain comes, it comes fast and violently.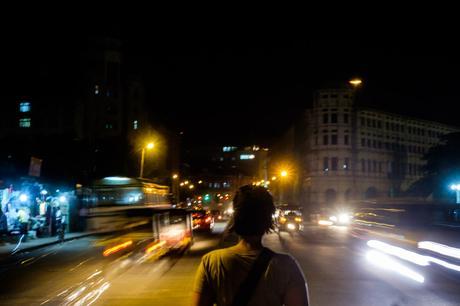 Colombo at night, a melting pot of lights and action.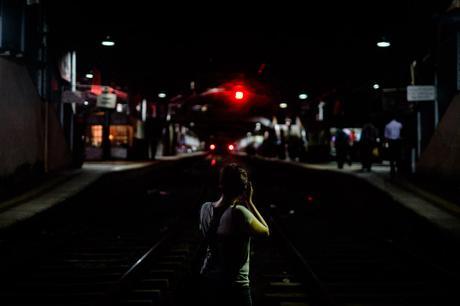 Charlene at Colombo Fort station. The fact that you can just stand on the tracks still boggles my mind!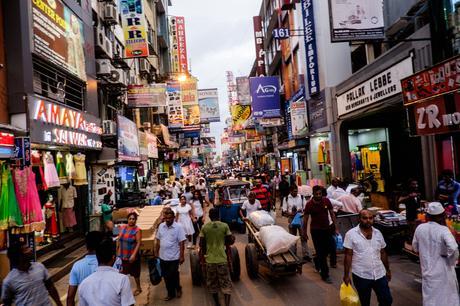 One of the busy market streets near Colombo Fort station. I will fish for some sympathy here and tell you a story of how I tripped later on this evening and nearly broke my arm! Photography is dangerous!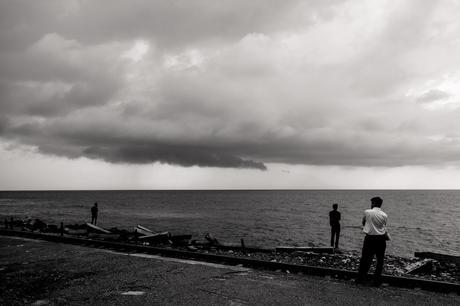 People waiting for the train while another storm threatens.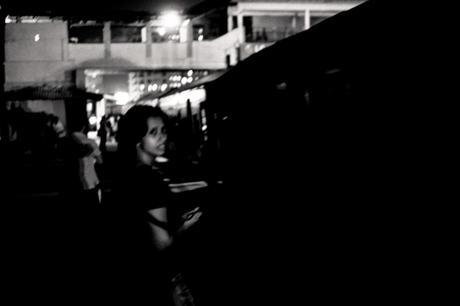 I love this one! Even by my standards, this is really blurry and out of focus, but I do not care, love it, love it love it!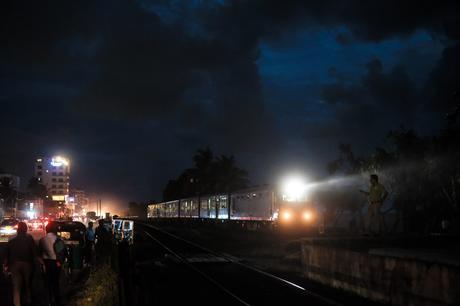 Waiting for the train. My most epic Fujifilm X-Pro2 capture.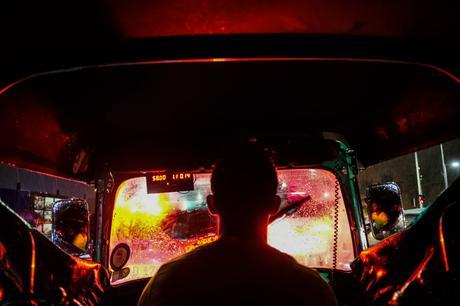 A 3-wheeler ride home on a very rainy evening. The brake lights lit up the entire inside of the 3-wheeler. This was the day of my ebook release, fittingly the 3-wheeler looks like a nightclub! Fujifilm X-Pro2.