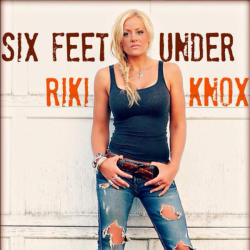 Sometimes life has a funny way of bringing people back into each other's lives. This is one of those times.
Riki Knox is an emerging country artist putting in her work from her home base in Ontario, while making trips to Nashville to write and record with the best in the business. But more than 25 years ago she was a little girl and I was a little boy in our elementary school classes. True story.
So here we are now, with me writing about country music and Riki making country music. Her current single, Six Feet Under, from her upcoming debut album, is at Canadian country radio now – and I dig it. And that has nothing to do with the fact that I know Riki.
I was able to catch up with Riki for some Q&A fun – and I'm excited share it with you now. Have a read and get to know a good country girl who loves music!
Q. We both grew up in the country near small towns, do you think that had an impact on you choosing country music as your path?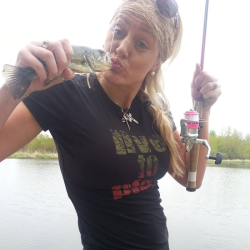 A. Absolutely! It stemmed from my Dad buying the farm we grew up in. He was raised in the country, and he wanted the same for us. I have a brother and two sisters, and we were the epitome of "country bumpkins". From shooting guns and building forts to driving field trucks and dirt bikes, to cutting down, splitting and piling wood to heat with in the Winter… country living was a way of life. We weren't allowed to sit around watching TV or playing video games… we were outside from sun up to sun down.
My Dad, a singer/songwriter himself, introduced me to country greats like Waylon, Johnny, Merle, Patsy, Dolly… all artists that he loved. He was drawn to music that told a story and to songs that carried you away on a melodic journey. I guess I naturally progressed into singing and writing country music for that very same reason.
Q. There were some pretty awesome female artists on country radio when we were coming of age in the late 90s. Are there any that influenced you and your music?
A. Oh man… I always find these questions so daunting!! lol
There are so many different artists that have influenced me over the years… If I had to put my finger on a few female country artists from the 90's: The Dixie Chicks, Trisha Yearwood, Patty Loveless, Martina McBride, Reba… and Deana Carter released Strawberry Wine around that time too. I was in love with that song!
Q. How did it feel seeing your name on the 2nd round of voting for the Country Music Association of Ontario, Rising Star Award?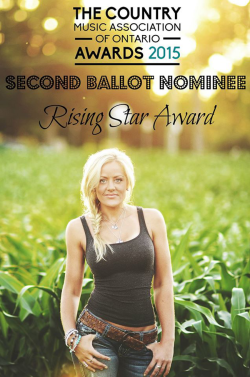 A. I was a ball of emotion when I saw my name on the ballot for Rising Star. I've been working my tail off, not unlike every other artist in this business, so it was definitely an amazing feeling to be nominated by my peers. It was bitter sweet that I wasn't able to share the good news with my Dad though. As my guide and musical mentor, he would have been the first excited phone call I would have made, but unfortunately he passed away unexpectedly in February of this year. I trust that he's extremely proud, as I am, to be recognized alongside the amazing talent we have coming out of Ontario!
Q. You've been down to Nashville to write and record, if we took a trip down where would you recommend we go for a good time?
A. Personally, I love any room that has a co-writer, microphone or live band in it.
Seriously though…
You can pretty much walk into any bar in Nashville and find great live entertainment. It's stocked with such incredibly talented artists & musicians. There are the obvious spots to check out like The Bluebird or The Listening Room Cafe, Tootsie's Lounge and of course The Ryman Auditorium. My studio band which is comprised of most members from the band 'Sixwire' (they also play on the TV show 'Nashville') have a monthly spot at 3rd and Lindsley. (another great venue for live entertainment) The place is jam packed when they play… and for good reason. These guys will totally blow your minds with their talent! They also have some great guest performers… you never know which star you'll find sharing the stage with them on any given night.
Q. If we were able to sneak a peek at your playlist right now, who would we find in your top 3 most played?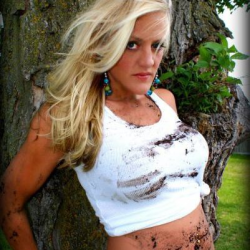 A. I'm constantly falling for new music, but at this very moment it would be…
Perfect Storm – Brad Paisley
We All Want What We Ain't Got – Jake Owen
Say You Do – Dierks Bentley
(I'm all about love right now… hehe)
Q. In 50 words or less, can you tell us what's coming up for you in the rest of 2015?
A. I spent 2014 writing and recording for my debut album, so 2015 will be about getting my new music out!
I'm super excited for all the big plans coming together behind the scenes right now. SO much to come… way too much to cover in 50 words or less!
Big thanks to Riki for playing along and catching up. We can't wait to see what's next.
Want to get to know Riki better? Find her online at these fine location…
Website:  www.rikiknox.com
Facebook: Riki Knox
Twitter: @rikiknox
Instagram: @rikiknox
iTunes: Riki Knox