The situation in the city of Edmonton Alberta is that there is not a lot of craft beer currently. Luckily that situation is changing right now!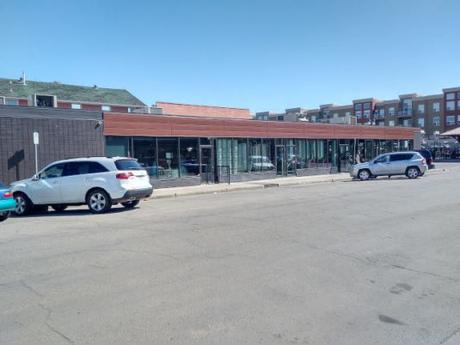 Hopefully in the near future there will be a sign on the brewery so that it is obvious that this is Situation Brewing. Situation Brewing is a great little brewpub located fairly close to the University of Alberta.
The brewpub has a great restaurant area with lots of windows that open up wide to bring in lots of fresh air. They serve 7 different beer that are brewed on site currently with up to 5 extra guest taps. The bar has a small selection of hard liquor as well if you are in the hunt for that. Not only do they make some tasty beer they also have really good food. I can personally recommend the Sandwich Cubano just get a side of hot sauce to make it even better. I could not have better things to say about the staff either as they were friendly, helpful and knowledgeable.
I was lucky enough to have my lunch at the bar beside the brewing crew and was able to set up a little tour of the brewery. The brewhouse is not huge but it is big enough to pump out enough beer to keep the taps flowing. When I checked out the brewery they had only been open for around 3 weeks and they had already made a kettle sour so you can see that they are looking to make a name for themselves. You will not find they beer at many locations outside of the brewpub because they fell in love with what Brassneck Brewing in Vancouver was doing more or less only selling been on site.
I am just happy that my work has been bringing me to Edmonton as I look forward to having a few more beers at this brewpub in the near future. They make good food and good beer. Make sure you head there if you ever make it to Edmonton or if you are lucky enough to live near to the brewery.
Situation Brewing
http://situationbeer.com
10308 - 81 Ave, Edmonton
780-705-1377
[email protected]

About Mike
I am an avid outdoors man and hobby photographer who loves to spend as much time as possible exploring the beautiful backcountry of the Province of British Columbia and everywhere else! When not exploring nature though I am exploring Craft and Micro Brew beer locally and from around the world. If you love beer like I do please come on a journey for your taste buds. Who knows you just might find your next favorite beer!