This is the text of this morning's Pause for Thought on BBC Radio 2's Chris Evans Show with Zoe Ball. It contains ten song titles by guests James and Tony Hadley:
I came across a great photo on twitter yesterday that showed a building with a sign on it that said in big black capitals: POLLING STATION. Above it there was a warning notice that read: Please do not sit on the fence. Brilliant.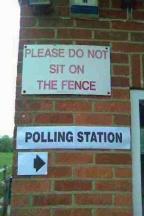 But, it's also problematic. Sometimes I wish people would sit on the fence for a bit longer and not feel pushed to jump one way or the other. OK, there are some matters on which I am clear about where I stand; but there are others where the issues are so complex that simply coming down on one side of the argument cannot be done without cost. But, the pressure we sometimes come under to choose makes you feel they're out to get you. "Just say something," they cry, but what do you do if all you can say is, "God only knows!"?
And, maybe born of frustration, we choose too quickly and later regret the decision we have made. Everybody knows that experience.
I remember the former Archbishop of Canterbury, Rowan Williams, wrestling with a difficult ethical conundrum and complaining that people wanted him to decide without recognising that the matter was simply not simple – and that the negative consequences of either choice needed to be reflected on and recognised before choosing. And it wasn't about sex…
So, I am quite happy to be decisive and to make choices. But, sometimes I want to sit on the fence while I think it through. I realize that the fence is uncomfortable, but in a world in which we are pressed to do everything instantly, it is ever more important to sit down, reflect and take time to think.
This is one good reason I have often said that the world needs more poets than lawyers. It is the poets and musicians who hit our imagination sideways and create the headspace in which we learn to reflect before choosing. And it is poets like the Psalmists of the Old Testament who tell the truth, who never give up on love, and who resist the pressure to move on too quickly, always holding on to tomorrow.
Let's hear it for the fence!

Posted with Blogsy