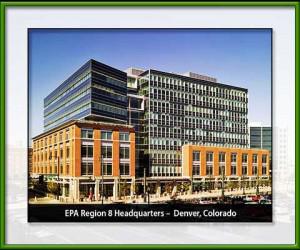 Located in Denver's Lower Downtown (LoDo) neighborhood, the EPA's region 8 headquarters occupies a LEED (Leadership in Energy and Environmental Design) Gold certified commercial building which they moved into four years ago. Sitting at the corner of Wynkoop St and the 16th St. Mall, the building is adjacent to Union Station, Denver's future home of a light rail hub, a key feature of accessible mass transit. Prior to the current structure, the old post office annex stood on the site. During demolition, roughly 80% of the previous building was recycled.
Upon walking into the nine story atrium, one is stuck by the use of bamboo throughout. While not locally sourced, the fast growing renewable grass does provide a "green" option. There is quite a bit of granite that was imported from abroad as locally sourced marble from aptly named Marble, Colorado proved to be cost prohibitive. Despite the fact that these features did not help the building earn points toward their LEED certification, they do add a nice aesthetic touch to the entry.
A waterfall coursing through the atrium helps naturally humidify the space. In addition, looking up at the glass roof, giant white sails (coated with Teflon) help reflect sunlight down to the ground floor while reducing glare for offices on the ninth floor. Another facet of the atrium is that it connects two separate "L" shaped structures. The separate buildings allow for the southeast facing structure, with greater sun exposure, to have its own heating and cooling system, separate from the northwest part of the complex, which does not benefit from the heat from the sun.
The building consumes 40% less energy than a similar facility, with a 36% lower energy bill resulting in $144,000 in savings. In addition, the water use is also 40% lower than comparable buildings. Roughly two-thirds (400) of the EPA's 600 employees use mass transportation. One of the EPA's benefits is an Eco Pass, the mass transit pass offered by employers at no cost to employees. Another 70 or so ride their bikes to and from the facility.
The EPA has been testing a green roof, which covers most of the three-tiered roof. There is also a 10 kilowatt photovoltaic array and seating area with tables for eating. Initially, the green roof was not irrigated, as the plants were chosen based on their ability to grow in Denver's climate. However, it was determined that even drought resistant plants need some additional water. Part of the reason for the roof is to reduce storm runoff, filter water, and insulate the top floor.
The building has also qualified for the EPA's own Energy Star Program. According to the building's website, "Region 8′s Environmental Management System helps us improve our environmental performance by quantifying the impact of our operations (e.g., electricity, water, material consumption and transportation) and taking actions to reduce those impacts."
[Image source]