All three of my jobs -- at the library, as a freelance editor and as a blogger -- require me to spend long hours at a computer with my butt in a chair. Needless to say, I do a lot of squirming after a while to stay comfortable. A product that has really increased my comfort level is a Cush Comfort cushion! It actually responds to body heat so that it becomes more shaped to one's tush as time goes on. And, very importantly, it doesn't go flat in a short period of time like many cushions do. It also suspends the tailbone so it relieves the pressure you feel there when you sit for long periods.
Once you place the Cush Comfort cushion on your chair, it stays in place thanks to the non-slip bottom. And you can actually unzip and remove the cover to wash it by hand or in your machine with cold water. This cushion is designed to last a good long time! Check out all of the great features in the graphic below.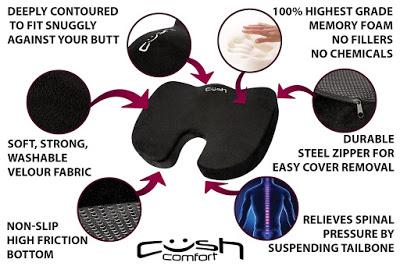 I've always had poor posture, so it's especially important for me to sit up straight in my chair, which the Cush Comfort cushion helps me to do. And because this position actually feels comfortable to me, I don't wiggle around like I used to.
The Cush Comfort cushion is not only ideal for a desk chair. You can also use it in the car, on your kitchen/dining room chair, or just about anywhere you'll be sitting. It's easy to move around, or use the discount code provided below to make it easier to purchase several cushions!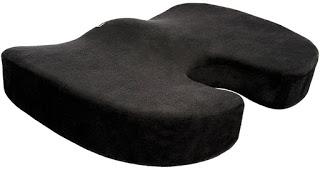 PROMO CODE

Save 10% off the Cush Comfort Cushion with promo code:

clubcush

at www.cushcomfort.com
If you spend long hours in a chair, have poor posture or back pain, give the Cush Comfort cushion a try! It was actually designed by a person who experienced a herniated disk and was desperate to find a cushion that would enable him to sit without pain. Visit www.cushcomfort.com to learn more about the Cush Comfort cushion and purchase one with the promo code provided above!

Disclosure: I received a product sample and compensation to facilitate this review, but all opinions are 100% my own.