The blog theme this week? 
Balladry.
My initial reaction? "Oh b*ll*cks!"
I've only ever composed one ballad in my time and that was way back in school days, aged eleven. We had to read out loud around the class
The Ballad of Sir Patrick Spens
(already referenced by our dear Scottish blogger yesterday) and as holiday homework we got to write a ballad of our very own over the Christmas break. My reaction? Then as now - see above!
To say that the task blighted the festive season would not be entirely true however, as I didn't set to until the day before school commenced again. My composition was a last-minute effort (well, more like six hours if I recall) and I didn't enjoy the experience one bit. I can't ever remember what I wrote about, which is very unusual; the fact I have erased all memory of the contents of said ballad just goes to show what a deeply unrewarding exercise it was! I might have vowed at the time that I would never write another ballad. I don't remember, but it is highly likely. Oh, I got a commendation for what I wrote, but that didn't make any difference.
Balladry then, what's it all about? The word ballad derives from the medieval French
chansons balladee
(danced songs); ballad shares its etymological root with ballet - and the significant features of early balladry were narrative verse (usually written in couplets with a refrain), set to music to be sung and danced to, almost a form of musical theater. Over time the dancing was dropped leaving the ballad as a sung or even spoken narrative - and it survives to this day in somewhat reduced circumstances as slow-paced, usually romantic pop music.
In its heyday (15th to 19th centuries), three distinct classes of ballads emerged. Firstly came the Traditional (or popular) Ballads as devised and widely performed by wandering minstrels in medieval Europe. These were often about famous events or people, like folk-hero Robin Hood (who had a great many ballads written about him) and were akin to an oral history of the times. One of the most famous and considered a fine example is
The Ballad of Chevy Chase
, supposedly composed by the Lancashire-born minstrel Richard Sheale in the mid-16th century.
Then with the arrival of the printing-press came the Broadside (or broadsheet) Ballads, mass-produced on poor quality paper and sold in street markets and at fairs by hawkers. The ballads were quite often scurrilous or seditious, like
The Tragical Ballad of the Lady Who Fell In Love with her Serving-Man,
the precursors of pulp fiction and soap opera.
Finally, in the late 18th century, the 'proper' poets got to grips with the form and the Literary Ballad was born, courtesy of the likes of Robert Burns, Walter Scott, Coleridge and Wordsworth.
This week's poetic effort (remember, I detest the ballad) takes its cue from a masterpiece of medieval literature,
Sir Gawain and The Green Knight
. That epic poem (author unknown) wasn't in fact a ballad at all, but a superb alliterative poem of over 2,500 lines in 101 verses.
I haven't gone to that much trouble (as will become apparent) but I have fashioned a hasty spoof and I offer an excerpt below from
Sir Owain and The Tangerine Knight...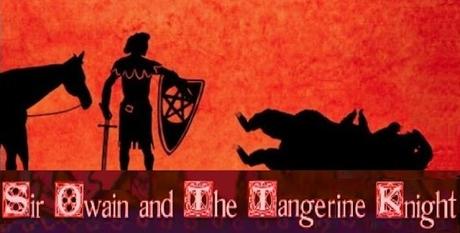 First, though, I should share some background explanation to this spoof - for those of you who don't share my constant preoccupation with the tragi-comedy that is Blackpool Football Club.
In as few words as possible: Owen Oyston, flamboyant local business man, bought Blackpool FC in 1987 for £1. For most of the 30 years he's owned it, the club has struggled in the bottom two divisions of the football league, hampered by lack of ambition and investment on behalf of the owner (who is not of the same order of selfless benefactor to football club and community as the likes Jack Heywood at Wolves or Jack Walker at Blackburn). Change came in 2006 when a Latvian banker became a 20% shareholder in the club (apparently with an agreement to up that share to 50%). Valeri Belokon's ambition and investment in the team and the stadium helped to elevate Blackpool FC back into the top flight of English football for the first time in 40 years. He said it was his intention to get us there in 5 years. In fact it took 4. Owen Oyston is on record as saying "we wouldn't be in the strong financial position we're in without Valeri Belokon." Curious then that as soon as the 'holy grail' of Premier League status and its associated rich revenue streams had been attained, Belokon apparently found himself side-lined by the majority share-holder, various agreements appear to have been reneged on and the Oystons are alleged to have diverted millions of pounds that should have gone to the football club into their other businesses. Lack of ambition and lack of investment soon reasserted themselves as the modus operandi and Blackpool FC plunged from top flight to bottom division in 5 disastrous seasons. Mr Belokon has not taken this lying down. Nor have Blackpool fans. Most of us are disgusted by the Oystons' poor custodianship of our football club and are boycotting until Owen agrees to sell up and go. Belokon has taken the Oystons to the High Court under the Companies Act claiming unfair prejudice and seeking to expose the Oystons' business practices in the process. The 5-week trial is about to enter its final week. We await the outcome with keen interest.
I hope this final canto does not prove a jinx. We want our club back...
Sir Owain and The Tangerine Knight  - Canto XII
Blight spread like plague through Blackpool town
As football's fortunes came tumbling down,
But funds which should have been in time of need
Had been diverted without heed,
If not illegal then as least unethical,
The motive unmistakeable -
No thought of putting football first.
Our famous club was sadly cursed.
When fans perceived the owners' greed,
Then Owain Out became the creed:
Give not a penny more to his regime
While staying loyal to the team
Perforce the order of the day
And fans in thousands stayed away.
In the end supporters' might alone
Could not force the magnate to atone.
The man who'd fired our great revival
Became the Sir Owains' doughty rival.
The magnate seeming in denial,
Truth and integrity went on trial.
A costly battle then was fought
For justice in the highest court.
What was revealed soon made it clear
There could be but one winner here.
Thus after thirty long, hard years of Old Sir Owain acting like a feudal Lord,
Thanks to that Knight in Tangerine our football club was finally restored.
Thanks for reading. Have an intrepid week, S ;-)
Email This
BlogThis!
Share to Twitter
Share to Facebook
Reactions: