Yesterday my day ended much better than it had started, but it had started magnificent.
The ingenuity and high end design from Japan impressed once more with this Siphon machine for infusing (and/or brewing) coffee. Some 16 – 18 gm of coffee and 250ml of water give a different experience in the world of drinking coffee.
A full report on this and a Cascara (Quishr) experience will be published here very soon.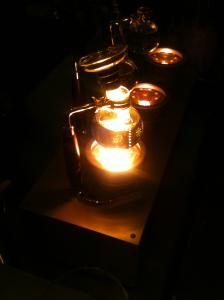 Coffee: Amaro Gayo Wahed (Ethiopia)
Locality: Blue Bottle Coffee, Chelsea, New York
Date: June 24th 2012
Barista: Grace
asd
About sila
I have been drinking coffee, eating coffee, thinking coffee. I am no historian, no expert, no missionary wishing to convince you that this particular brew in this particular cup will be the god-shot of your life. But perhaps being a reliable storyteller will help increase – among others – your coffee expectations, your perception in every cup, thus increasing your joy in each. View all posts by sila →