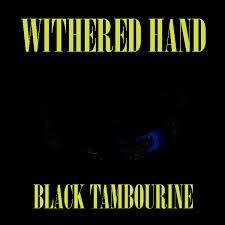 Jarvis Cockers favorite Edinburgh based singer-songwriter is back!  Dan Wilson's Withered Hand have returned with Black Tambourine; the first single from the much-anticipated album New Gods.  The single features Eugene Kelly, of The Vaselines and Pam Berry, singer of the influential twee pop band Black Tambourine and their influence can certainly be heard on the track.
Following on from Withered Hand's first album Good News, a quiet folk album that included instant classics such as No Cigarettes and Religious Songs, this track is the perfect evolution from that.  Having perfected one sound on Good News it seems Wilson has transcended to another with ease.  Black Tambourine is a jangle pop anthem that wouldn't look out of place on an early Teenage Fanclub record while never losing the heart and sincerity you attain from their more sombre songs.
Rolling Stone magazine cited Withered Hand as an artist to watch, yet the pressure you would expect from such an accolade hasn't seemed to faze them.  This single, while definitely not would you expect from Withered Hand, is enough to make any listener long for more and thankfully we only have a few months to wait until we are delighted with some more goodies.
- Stuart Thompson
Withered Hand - Black Tambourine is out now on FortunaPOP! and available to download via iTunes.