I recently had the honor of being a panelist with Dr. Ruth on Huff Post Live http://live.huffingtonpost.com/r/archive/segment/54dd085d78c90a7445000372! For decades, Dr. Ruth has been offering advice on how to improve our relationships and our sex lives. She is still hilarious and amazing! I asked her to share some tips on how to improve our experience with online dating and she shared her advice.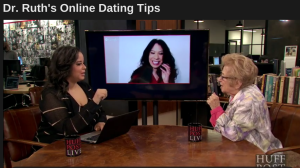 1. Don't give out your address :)
2. Don't share naked pictures. Read: No dick pics
3. Meet in a public place. Either a hotel lobby or laundry mat :) Yes, laundry mat :) She said that's the new pick-up joint! Head to the laundry mat and start chatting up singles :)
She dished out on many topics. What does she think of Fifty Shades of Grey? "Not the best piece of literature." But, the book helps the world understand that women are aroused by erotica and that women are being empowered to take part in their sexual satisfaction. Read: stop faking orgasms :) 
Watch the full segment here: http://live.huffingtonpost.com/r/segment/dr-ruth-valentines-day-advice-interview/54b54e7c2b8c2a53190000f3
Wishing you all a Happy Valentine's Day in advance!