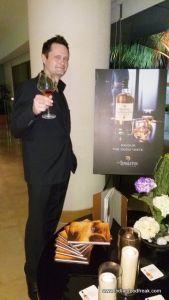 Let me admit first - I did not consider myself to be a whiskey person. Very rarely would I go for any whiskey based cocktail and rarer that I would have a glass of whiskey. So when the days were getting hotter, I almost decided to skip the invite to be a part of the "Specially Paired Malt Dinner" at the poolside of Westin Garden City. Two reasons. Since the invite was for Whisky pairing with dinner and I was not exactly a whiskey person as I said before and the venue was to be poolside, which I thought, would be a warm evening. But aren't I glad that my good sense prevailed and I went!
The day was warm alright, but as the sun set, the evening turned cooler and the mild breeze at the Poolside of Westin added to the whole ambience. It was an event hosted by Mr. Ashish Kumar Rai, General Manager of Westin and Mr. Nicholas Ord, Reserve Brand Ambassador United Spirits Ltd. The tables were laid out with each guest's personalized name card. Mr. Rai welcomed all the guests and then handed over the stage to Nicholas to introduce and explain about each of the whiskeys served that evening.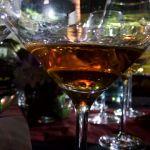 Glenkinchie 12YO was the first one to be served. This aromatic light sweet and a hint of vanilla and cut flowers was just perfect with the subtle green and white Asparagus, Burrata and quinoa chips. Nicholas told us that Glenkinchie comes from the region known as the "Garden of Scotland". The whiskey is locally known as The Edinburgh Malt, light bodied with a fresh crisp taste.
Kashmir Morels and Mushroom puree was served along with a glass of Caol Ila. The name Caol Ila means "The sound of Islay". This refers to the narrow strip of sea separating Islay from the Isle of Jura on the shore of which the distillery for Caol Ila stands. This one is smoky and tasted like a medicine. As Nicholas put it "Tastes like Iodin"! Even a "non whiskey" person like me could make out the difference between the two.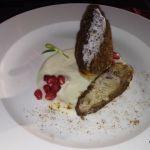 Then came the powerful
Talisker 10
. I requested for
Smoked Corn Fed Chicken Spiced Yogurt and Raw Mango and Pineapple Chutney.
The chicken was so perfectly done and it complimented the strong Taliskar really well. I was the only one in my table having chicken and all other guests had
Panseared
Scallops air dried Proscuitto
. Going by their opinions that dish was just perfect for the drink. Nicholas here asked us to take a sip of the whiskey and try to keep it under out tongues for some time. Well I do not know about others, but I could barely keep it for 3 seconds and it started to burn. It's a powerful whiskey with peat smoke with a hint of sea water salt of fresh oysters and with a citrus sweetness. In 2006 Taliskar 18 YO was proclaimed "The Best Whisky in the world" by whisky magazine.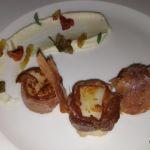 The main course of
Australian Lamb Loin with Madeira sauce, Milanese Risotto
was served with Lagavulin 16YO. The lamb was soft and succulent and again a perfect accompaniment to the intensely rich and sweet
Lagavulin
. This deep amber full bodied single malt is kept in Oak casts for 16 years to mature before putting into bottles.
It was the time for desserts and before me was a plate of Mignardises and a glass of Singleton by Glen Ord. By that time I had let go off my "Non Whiskey" person tag and was enjoying the drinks thoroughly.
It was an evening of good food and Single Malts. I am glad that when I really tasted the "water of life", it was with THE BEST.
Cheers.