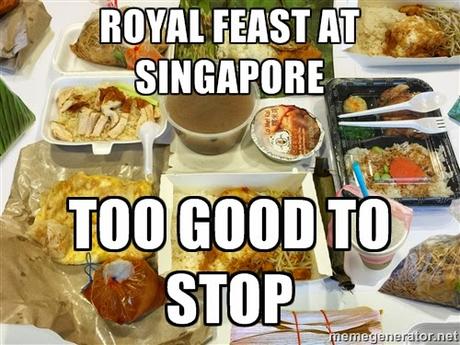 MEME The day I got an invite to visit Singapore was a memorable day for my cousins wedding. It was my first visit, I always love Singapore for it beauty and credibility. I was super excited to go there. I will go with my 4 year old, I was little worried about the food in Singapore to manage my picky eater. To my surprise Singapore was filled with yummy dishes. There was Indian, Chinese, Malay and Cross Cultural dishes.
These are my favorite food I explored and loved them forever:
We visited the Hawker food court and these dishes were to die for. I have categorized my dishes based on their serving coarse.
Starter Favorites:
Chilly Crab Fried Sesame Ball Sambal sting Ray Kaya Toast Drunken Chicken
Main Course:
Oyster Omlette Katong Laksa Fish Head soup BBQ Chicken Wings Chicken Rice Fried Hoiken Mee Chilly crab Pasta Fish Head Curry Coin Prata Flavored Prata
Dessert:
Ice Cream Bread Fried Carrot Cake Chilly Crab Ice cream Pulut Hitam Cake
For these yummy treats, Singapore is just a heaven in treating the tummy.