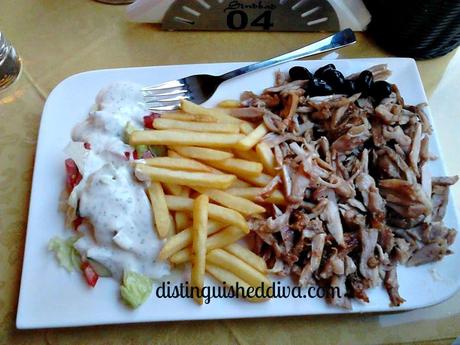 Food is a passion for me, I love good food and eat more than the average girl. What I missed most about England, especially London is how effortless it is to find any cuisine in a corner around you.
The diversity of London's population make it unchallengeable and thrilling for food lovers who aren't scared of trying everything cooked for them.
I missed that when I moved back to Greece, in England everyday is a cuisine discovery.
Long story short, when my friend A. decided to take me to a place for dinner, I was pretty intrigued to find out what Iraqi cuisine is all about.
Since A was told about the place by a colleague who is from Iraq, my expectation were very high.
The environment was very clean, cozy and inviting.
A. ordered Cosi which was basically lamb hip with couscous, salad and two huge homemade Iraqi bread.
I ordered Döner Teller which is by the way enough for three people, but I did finish it all.
We had baklava for dessert which I love considering they originate from Greece and Iraqi tea.
I have no pictures for the dessert and tea because I got caught up in a very heat up conversation with A.
The staff were very friendly until I asked for the bill and he totally ignored me and talk to A because he thinks woman aren't suppose to pick up the bill or even talk to another male.
I was offended since he totally ignored my existence till we left the place.
I respect all culture but I abhor when the disrespect women. We were the only non muslin people in the place and during our meals I had so much side looks my way I totally ignored of course but the bill part was when I got pissed.
Overall, I would go back and of course pay the bill even though I am a lady.
4/5.
Address:
Schwanthalerstraße 2
München
089 54349908 
PS: I am moving to my new house at the suburbs of Munich and I can't tell you how super excited I am right now but I will be gone for a while till the internet people fix up my line.
If you know Tutzing that is my new home and I can't wait to show you the new house and all the related process in some post later on, so this will probably be my last post till we fix everything up but instagram is our best friend and follow all my journey.
I will be over sharing and you have been warned.
Thank you all and hope you enjoy the food porn.