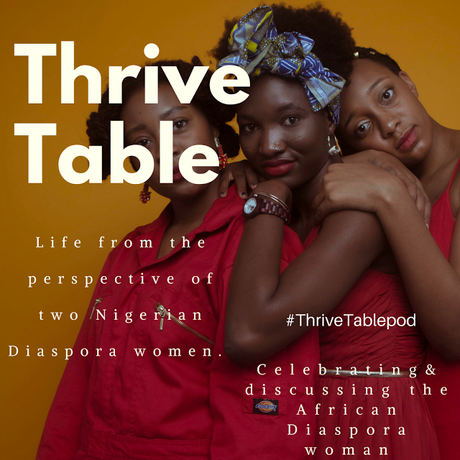 I am super excited to finally share with you all what we have been cooking with my Naija sister
The first ever podcast from two African/Nigerian Diaspora women celebrating and discussing everything from love, life, boarding school. spirituality, art and everything from the diaspora woman's perspective.
We will go live on Monday and every Monday there will be a new episode of our fabulous fun selves for you all to explore our Africanness and how we navigate through the spaces we currently reside.
Are you as excited as we are? #ThriveTablePodWe both believe fiercely in the novel idea of African stories that are told by African voices (I know right?) and some of that righteous passion was awakened by the fact that as young women living in Nigeria we heard louder Western male voices than local female voices. Today we are both loud & proud of our African heritage that has been infused with some Western diaspora influences and we want to be the loud voices we didn't really hear when we were youngsters. So if you've ever wondered what happens in the raw & unfiltered mind of the millennial diaspora African female- your wait is OVER.Listen on SoundcloudI hope you enjoy listening to our voices and find your stories inspiring.