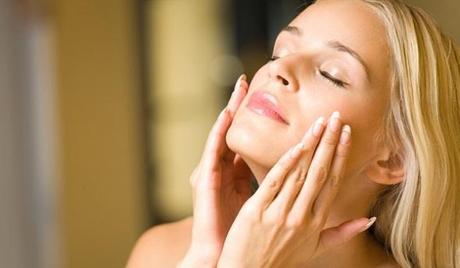 Beauty product junkies (and their wallets) are well aware of the multitude of products out there geared for different areas of our body. I mean, exactly why do we need a separate hand scrub, body mask, and foot cream when there are suitable alternatives? I mean, what's wrong with using a body oil for your feet, or simply washing your hands with soap?
Today's post is about the facial products you'll ever really need. Forget the superfluous stuff and don't give in to hype over thinking you need something specific when you really just need 5 basics to get clean, moisturized, protected and clear.
A cleanser for your skin type 
Oily, acne-prone, normal, dry, sensitive – we all have different skin types,and said types can even change with the climate and weather. (For example, I usually have normal to combination, but during drier areas of the US during the winter it becomes drier. My skin can get oilier during the summer, too.)
Get only a good, thorough, gentle cleanser you can use both morning and night, and if it also removes makeup, that's even better! Try Delizioso Skincare's Black Currant Foaming Facial Cleanser. However, a good oil, like grapeseed, can also do the trick and serves double-duty as a moisturizer, too. Aura Cacia makes a good one.
A moisturizer for day and night
Again, this may vary with your skin type, but most of us can get by with the same moisturizer for both day wear and before going to sleep. Your moisturizer should, again, be formulated for your skin specifically and ideally come with extra benefits like antioxidants, peptides or hyaluronic acid.
Also ensure it's heavy enough to protect your skin during the day, but lightweight enough for the day. Facial oils work well in this department. Try Acure Organics 100% Organic Argan Oil.
A reliable sunscreen
Sunscreen with high SPF (30+) is recommended for use all day. Most of us combine our day moisturizer with adequate sunscreen included. However, you can also get separate sunscreen and apply it BEFORE your moisturizer. Get one that is light and doesn't clog pores. Goddess Garden makes a great facial sunscreen with SPF 30, and it's over 90% organic.
A gentle exfoliator
Gently scrubbing your face with a nice facial scrub once or twice a week is great for removing extra flakes and dead skin cells, and buffs your skin for extra softness. I've always noticed that my makeup applies smoother and more evenly after a scrub. I persoanly like my scrubs with more abrasion, so if you do too, try Acure Organics Brightening Facial Scrub. Want something gentler? 100% Pure's Cherry Honey Facial Scrub uses round jojoba beads for scrubbing, and said beads are good for sensitive skin, too.
Of course, you can always make your own DIY scrub!
A clarifying facial mask
There are tons of different clay and mud masks out there you can use for extra detoxification and clarification. These masks draw out impurities and extra sebum, giving you a clear, astringent feel after rinsing and it can be very refreshing as well. If your skin's dry, you may want to skip these or find a moisturizing mask instead. Or, try making your own – milk, bananas and oatmeal make great masks. Here's a list of a few right here on this blog.
If your skin can handle a clay mask, check out Whole Truth Solutions. They make masks for all skin types, actually. One to try is their Strawberry Hibiscus Chrysanthemum Clay Therapy Masque.
BONUS: Eye cream
Many will argue that eye cream is unnecessary, and in a lot of cases it is. I mean, it's doubtful that your average 19 year old would need one. However, if you're interested in reducing the look for fine lines or help stave off their arrival, an eye cream formulated just for that purpose can help. Now that I'm in my 30′s, I'd like to prevent any lines from showing up before their time, so I use an eye cream solely for that purpose. I also tend to have dark circles and the occasional puffiness, and an eye cream with caffeine helps a ton with that.
My fave is 100% Pure's Coffee Bean Eye Cream. Acure Organics Superfruit + Chlorella Growth Factor Eye Cream helps diminish the look of crow's feet and fine lines and reduce puffiness. Both are super affordable and lasts for a long time since you never need a lot! I've been using my 0.5oz tube from 10% Pure for the past 5.5 months!