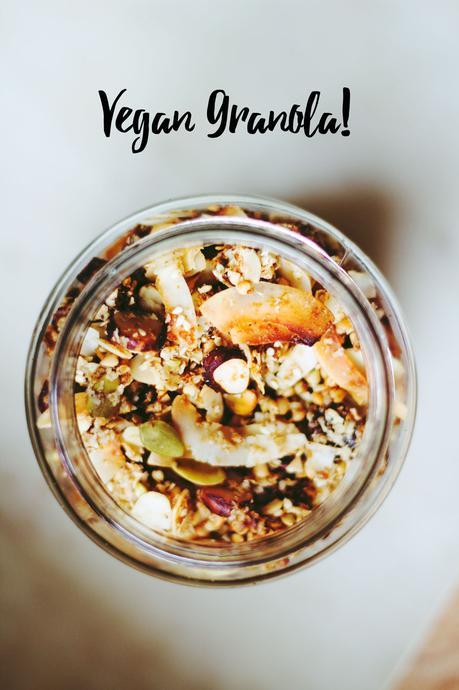 Happy Earth Day! I hope you're celebrating and enjoying our planet today! 
I'm celebrating with a bowl of granola with homemade coconut milk here while picking tomatoes from our little veggie patch (I'll show you some pictures of it soon).
So
It has been granola making-week at home.
Just coconut flakes, hazelnuts and a few seeds and we are ready! Easy + quick + fun and way more nutritious and
budget friendly
than any
store-bought granol
a or cereal out there.
And when you make your own granola, you know what's in it, and the best part is that you can experiment with all kind of seeds, nuts and make it just to your taste.
So here it is another version of this buckwheat granola I made last year (which by the way has been our favorite). This new vegan granola recipe is refined sugar-free like this one, but we used fewer nuts and more seeds to add more nutritional power in it. Enjoy + eat to nourish!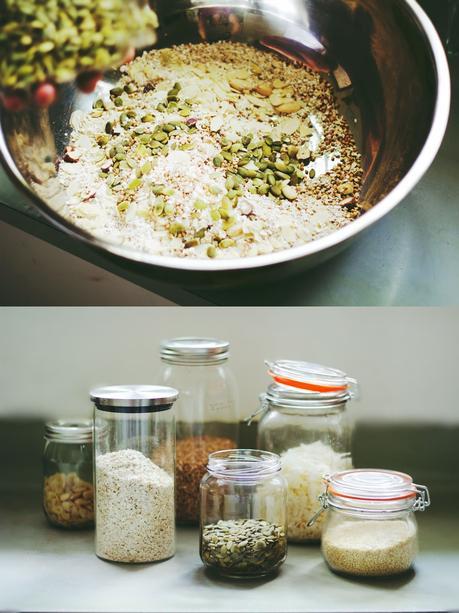 SIMPLE VEGAN GRANOLA W/ HAZELNUT + COCONUT + SEEDS (REFINED SUGAR-FREE)
1 C. Raw Buckwheat Groats (no toasted buckwheat / kasha)
2 
Oats
1/2 C. 
Pumpkin Seeds
1/4 C. 
Sesame Seeds
1 C. Hazelnuts, chopped or substitute w/ cashews or almonds
1 1/2 C. 
Coconut Flakes
Natural Sweetener:
10 Regular Dates chopped in small pieces (Soaked in hot water for 30 minutes) 
1/2 C. Coconut Sugar 
Rice syrup to taste
1/4 C. Coconut oil (melted) or Olive oil
Preparation:
Preheat oven at 150C/300F.  
In a large bowl add the dry ingredients. Set aside.
In a separate bowl combine soaked dates, coconut syrup, coconut sugar.
Pour sweetener mixture + oil over dry ingredients and give it a good stir so everything gets covered. 
Place vegan granola mixture over a large baking tray / or two medium baking trays and spread evenly, bake for 15 minutes, remove from the oven stir and bake for another 5-8 minutes. It will be ready when its nice, crispy and golden brown. Let it cool and transfer the granola into a glass jar!