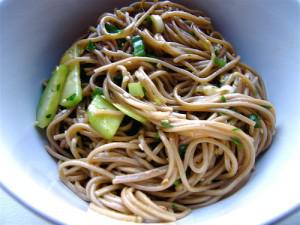 One of the things I can't stand in the hot summer is a hot kitchen. So I've been looking for recipes lately that require very little use of the stove or the oven lately. I stumbled upon a few recipes making use of cold Japanese Soba noodles. Soba noodles are wheat and buckwheat noodles that look a lot like spaghetti, except they are darker in color, lighter in taste, and firmer in consistency. They can be found in the "ethnic" aisle of most grocery stores, or in an asian market, or right here in the Savvy Shop. In Japanese cooking, soba noodles can be served hot or cold, in soups, salads, or even as the main dish as with this recipe.

Simple Summer Soba Noodle Recipe
Ingredients: 

12 ounces soba noodles
2 scallions, sliced
2 tbs sesame oil
2 tbs reduced-sodium soy sauce
2 tbs rice vinegar or brown rice vinegar
1 tbsp honey
1 tsp salt
1 tbsp lemon juice
1/2 cucumber seeded and thinly chopped
1 tsp cayenne (optional)
1 tsp toasted sesame seed (optional)
Directions:
Cook noodles according to package directions. Drain the noodles and rinse under cold running water until cool, moving your hands through the noodles to separate them and rinse off the excess starch, until the water runs clear. (This is important). In a medium sized bowl, mix oil, soy sauce, vinegar, honey, salt, and lemon juice well. Transfer noodles into the dressing and toss with scallions, and remaining ingredients. Chill, or serve immediately at room temperature in 3/4 cup servings.
This is a great, quick easy meal that is perfect for a hot summer day or a picnic! I eat this for lunch a lot. If you want more protein in the dish, toss in a sprinkle of nutritional yeast, or grilled tofu.(Adding tofu makes this dish officially Otsu).
Don't live near an asian market, but you want to try out this recipe? Check out the links below to find the ingredients…
Do you cook with Soba noodles? What's your recipe?