Reminding your other half how much you care is a simple thing to do but so often forgotten. Romance doesn't always have to be about expensive presents or grandiose displays of affection, there are plenty of simple things you can do all year round to show the man or woman in your life how much they mean to you. If you're looking for gift ideas for two of you to enjoy together, keeping it simple and thinking about what your partner really enjoys is often a good place to start, but you can still be thoughtful even when there's no special occasion to celebrate. Remembering these simple tips will help keep the fires of romance burning all year round:
Say it with flowers
So simple yet so effective. Some men may never understand why, but most women just love receiving flowers. They brighten up the home and show you're thinking about her, even if there's no particular reason other than showing your affection. Try to learn what her favorite types of flowers are and pick colours she likes too.
Keeping up appearances
It is too easy to slip into the comfort zone in a long-term relationship especially when you're used to seeing each other at your worst or slobbing around the house in scruffs. But your other half will really appreciate the effort if you spruce yourself up and look your best once in a while just for him or her. Donning a shirt and tie or an evening dress for a surprise dinner can make even the most mundane midweek evening seem special.
Breakfast in bed
The most relaxing way to begin the weekend together, bringing you loved one their favorite breakfast on a tray without them even having to get out of bed is a winner every time. Add a rose for an extra flourish and throw in the morning newspapers for a delightfully lazy start to the day.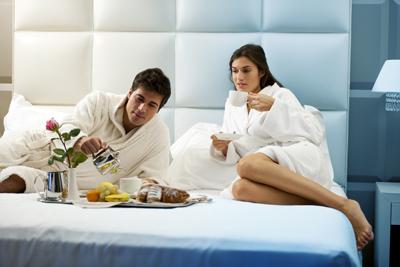 Life's not a chore
OK, there's not much romantic about the act of washing up. But actually doing the washing up so your loved one doesn't have to is romantic. The humdrum grind of everyday life gets us all down at times and the thought of getting home and being faced with piles of washing up is never a pleasant one. Even if you're married to a Stepford Wife who revels in pottering about the house or a House Husband who loves to clean, beating them to it and ensuring the most boring tasks are already done once in a while would be a much-appreciated treat.
Make a mixtape
The art of the mixtape may be dead thanks to the dawn of the iPod, but there's no reason you can't recreate the spirit of it. Even a Spotify playlist can be meaningful if you put a bit of thought into the songs. We're not talking end-to-end Barry White tracks here, you need songs that mean something to your relationship and relate to your times together. If you can package them up in something physical for retro-chic value then even better, but it's the thought that goes into the soundtrack that really counts.
Above are some brilliant ideas to show your loved one just how romantic you can be. It doesn't have to be valentine's day to show someone just how much they mean to you, so give one of the above a go, they make amazing romantic gift ideas for men and women.
This article was produced by GiftIdeasForTwo.com. Great gift ideas for women and men in the UK.