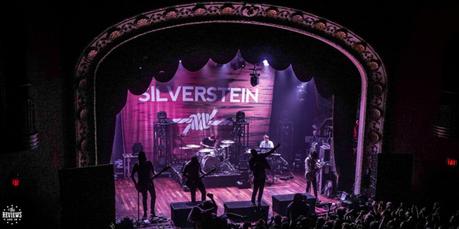 Silverstein rolled into a hometown Toronto show Saturday night at The Opera House and was greeted by a sold-out crowd eagerly waiting to scream back every single word.
The two set show (and encore) brings an end to a busy 2018 year for Silverstein. Not only was the tour a double set, but it was also an anniversary tour. The fans were treated to a start-to-finish playthrough of the band's debut album When Broken Is Easily Fixed, which is celebrating its 15th birthday, followed by their greatest hits. This made for one special night.
Any fan of Silverstein knows to expect an energy-packed performance, and they were not disappointed on Saturday night. The band came out with a killer light show and loads of energy, and the crowd could see that. No matter what song they played, the band was drowned out by the sound of hundreds of people singing every single word along with them.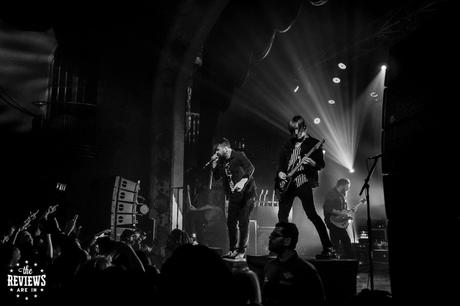 As the band switched to playing their greatest hits, you could feel the energy in the room change. Everybody in the building was on their feet, crowd surfers were flying and the mosh pit was in full force. These are the songs that mean everything to these fans. This is why they are here. You could look around and see everyone smiling, dancing, jumping around, and singing along even louder than before. As if that was even possible. From Smashed Into Pieces to Smile in your Sleep and Aquamarine, the boys in Silverstein really know how to put on a show.
In response to the overwhelming demand for tickets, they have added a second show Sunday night, which also sold out. Not bad for a couple of guys from the 905. Be sure to keep your eyes and ears open for more from Silverstein, they aren't done yet.
Silverstein Setlist, Opera House. Toronto, Dec. 15th, 2018
- When Broken Is Easily Fixed -
★ Smashed Into Pieces
★ Red Light Pledge
★ Giving Up
★ November
★ Last Days Of Summer
★ Bleeds No More
★ Hear Me Out
★ The Weak And The Wounded
★ Wish I Could Forget You
★ When Broken Is Easily Fixed
- Greatest Hits -
★ The Afterglow
★ Smile In Your Sleep
★ Call It Karma
★ California
★ Massachusetts
★ Texas Mickey
★ Retrograde
★ Lost Positives
★ American Dream
★ Discovering The Waterfront
- Encore -
★ Aquamarine
★ My Heroine
Photos of Silverstein, Opera House. Toronto, Dec. 15th, 2018