Is there a song that holds special meaning to you?  I've loved Tori Amos since Spring Break my senior year of high school (thank you, Laura). Little Earthquakes touched my core and for years I was a huge fan; collecting every album, hunting down rare imports, going to every concert when she came to town - I even have an autographed concert ticket!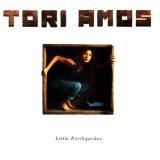 After I grew up a little, got married and had kids, I didn't need her music anymore. My angst had resolved! I listened to her now and again because she's fun to sing to and her music (at least her first 4 or 5 albums) holds a special place in my heart, but the words held little meaning for me.
Recently, after listening to Little Earthquakes for the first time in years, I reconnected with one particular song: Silent All These Years.
Motherhood is one of the greatest gifts of my life. It changes you forever, sometimes leaving bits of you behind. That woman you are, the essence of you, falls silent for awhile as your life, your world is taken over by all things baby. The purest expression of womanhood - childbirth - can actually strip you of your feminine power.
That's what I'm talking about today on the vlog! I'd love to hear your thoughts.

So, what song holds special meaning in your heart?
I'm linking up with Mama Kat's Practically World Famous Vlogging Prompts!
Thanks for the inspiration, Mama Kat!