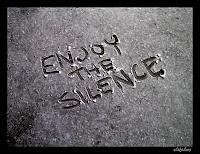 Silence can be painful for lot  of us as we are accustomed to talk incessantly. The talking can involve use of tongue or merely a war of words within our minds.
By observation of silence does not mean to remain quiet but it involves forcing calmness in the mind too.
To perform this try to avoid engaging in meaningless talk. Our usual chit-chat leads to cause turbulence in our mind.
Observe the discipline of speech thus maintaining awareness of Brahma---- The Highest Truth.