I am not a chardonnay drinker. In the past, I'd been known to adhere to the ABC rule:  Anything But Chardonnay. I outwardly disparaged the grape and shamefully belittled it by associating the varietal with big-haired, bedazzled women with thick Southern accents.
"Ahhd lahk t'yorda un owhhky , buhdry shard'naaaay"
I felt that I'd reached a point where I tasted too many less than mediocre chardonnays to justify my hesitations: ones that often over-oaked, flat, and cloying. You know what I'm talking about, they're so rich and thick you feel like you need to brush your teeth after each reluctant sip. Although I had tasted some chardonnays that I liked, notably from Washington State, the Pacific Rim, and Burgundy, they seemed to be harder to find and higher than my normal price range, so I just began a pattern of avoiding them altogether. Bad move. Sometime in 2009, perhaps while studying for my sommelier certification,  I started to discover the wonders of well-crafted chardonnay, specifically from Burgundy. Getting my feet wet with affordable Maconnais, then basically moving up the chain to more complex and nuanced appellations,  my fascination multiplied, and I slowly fell in love with this little green grape.  So when I was whisked away to iconic Bourgogne for my big 3-0, I was over the moon with giddy anticipation.
Burgundy is, in two words, sensation overload. Driving up the Route des Grands Crus in mid-August, you're eyes are struck with nothing but rolling, green vineyards on your left and right, while ahead are perfectly manicured villages in various shades of beige and brown. In fact, two unexpected observations I made were the impeccable cleanliness of each village, and the short distances between the villages, for example Veugeot and Vosne-Romanée are only 2 kilometers apart. By looking at a map, I had always thought that Burgundy was massive, so it was a pleasant surprise as it allowed us to stop in several places for a dégustation.
My taste buds have been on a white wine kick for a while now, which means whatever extra sensitivity I have for whites at the moment, I'm lacking in for reds. So I wasn't able to fully pick up on some pinot characteristics as I'd hoped, but that didn't stop me from trying, my weekend favorite being an Aloxe-Corton I had with my entrecôte at L'Epicerie et Cie. in Dijon. I was able to appreciate some stellar chardonnays, ranging widely in characteristic and price, from Hautes-Cotes de Beaunes to Meursault to Chassagne- Montrachet. Even the simplest whites I had still had some killer balance between minerality, fruit, and oak.  In addition to producing world class wines, I get now why Burgundy has become a legendary destination: you can certainly feel and almost see a dream-like, ephereal glow protecting it.
Snapshots: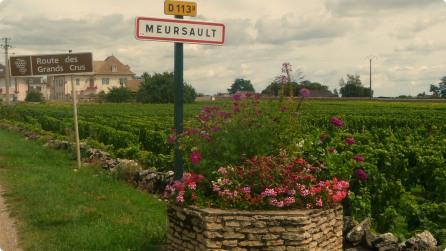 Entering Meursault
Advertisement