It's the worst possible time to get sick!
It never fails. Every year, at least one of us is
sick
for
Christmas
. It's my son this year. He came crying into my room last night around 3 AM...and let's just say I've been cleaning and using vats of Lysol since then.
Bah humbug! Or should I say bah-stomach bug!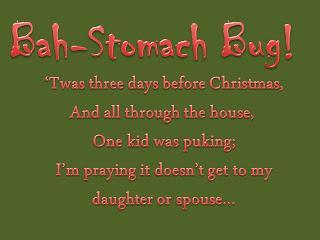 Kids sick before Christmas
Source: MMcK
I can't say I didn't see it coming. Things were all going too well. We're having (hopefully) my daughter's second birthday party tonight (minus the sick kid, of course), and then there's Christmas Eve and Christmas.
All I want for Christmas is for all of us to be well. It breaks my heart when the kids miss out. Plus, I hate not being with the family.
Okay, I also hate being sick! 
Let's hope it doesn't spread. Say a little Christmas prayer for me, would you?
~Marissa 
Marissa is a stay-at-home mom who writes pregnancy and parenting articles on HubPages, as well as shares her motherly escapades on Mommy Knows What's Best.