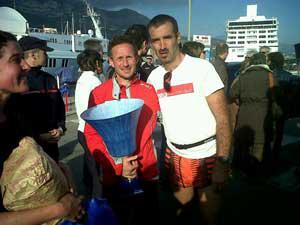 Sarah Barnett, William Sichel & Fredi Buchler Photo: Alan Young
The 8 Day No Finish Line multiday race in Monaco has just concluded with Scotland's William Sichel and Australia's Sarah Barnett setting new course records.
Early on the second day William assumed first place and continued to build a lead until the races end, running 1002.290 km, 622 miles surpassing the old record, 922 km, set by Tond Sjavik in 2009. Along the way William set a new Scottish 72hr record with 275.888miles, 444km.
To underline the fact that there were some tremendous performances this year, second and third placed men also broke the course record.
Second placed Didier Sessegolo battled with Gerard Habasque and Richard Brown until the fourth day when he moved into second place and maintained that position until the end. Third place saw several names including Stephane Leroux and Sarah Barnett who was eventually surpassed in the final 12 hours by Bernard Chevillon, last years race winner.
Sarah who won the women's race last year with 811 km came back to Monaco to transcend herself with a remarkable 913.045 km and, by the end of the race had created a massive 178 km lead over second placed Mimi Chevillon and improving Christine David's previous course record also set in 2009 of 901 km.
Photos on Williams blog show how crowded the course can get. With around 6,000 participants this year who amassed a total of 213, 766 km, its an extremely impressive achievement.
Congratulations to all the participants in this community event which has raised 300,000 € for charity.Thanks as well to Alan Young and Tim Rainey, Williams support crew, who kept the updates flowing.
8 Day Race Men
1. William Sichel 1002.290 km
2. Didier Sessegolo 935.013 km
3. Bernard Chevillon 924.029 km
8 Day Race Women
1. Sarah Barnett 913.045 km
2. Mimi Chevillon 735.928 km
3. Annick Fouchard-Djebli 613.731 km
24 Hour Race Men
1. Ludger Robert Boewer 218.307 km
2. Vincenzo Tarascio 204.200 km
3. Mike Manfredi 200.016 km
24 Hour Race Women
1. Maria Ilaria Fossati 190.847
2. Sandra Brown 180.578
3. Kathy Crilley 145.576
Full results are available on the No Finish Line website.
William Sichel's site has race updates and photos.