Dave and Sian are from Wales in the UK, and met in 2010. They said they knew almost straight away that they would get married. They had chatted about eloping to do it, but not made any solid plans. Dave's brother had a destination wedding in Greece with several family members and that had put them off slightly, they did not want the stress of planning and organising to get everyone there.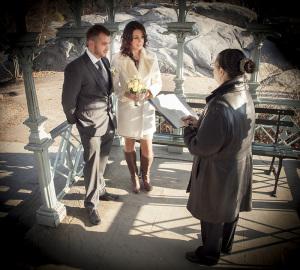 When booking a trip to New York for December they started to think about getting married while they were there. Neither of them had any desire for a big white wedding, they just wanted to be married, and a New York wedding felt right to them. "It was also a lot cheaper than doing it at home and so much less fuss," Sian said "we kept it a secret until a week before the wedding as we didn't want anybody feeling obliged to travel and also we didn't want some people there and other people left behind."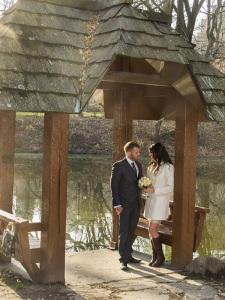 Sian and Dave had considered having a ceremony City Hall but it just did not seem romantic enough to them, Central Park has so many romantic spots to choose from, so they chose that, despite their wedding date set for December. For this couple, the most romantic spot was the Ladies' Pavilion, they also liked it because it was sheltered. As you can see from the pictures, they had a perfect New York Winter's day, the sun was shining and the air was crisp and clear.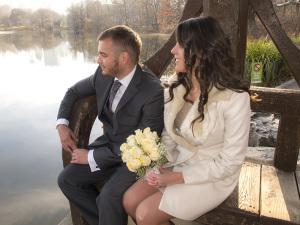 Dave wore a gray suit and gray tie with a hint of gold. Sian wore a gold sparkly knit dress under a cream coat with fur collar, "I wanted something a little glam or vintage as I wasn't wearing a wedding dress", said Sian. She also wore brown leather boots in case of wet weather. Sian was lucky enough to have a professional beautician do her hair and make-up on the day of the wedding – herself! She was confident that she would do a good job, having done wedding makeup many times back home in Wales.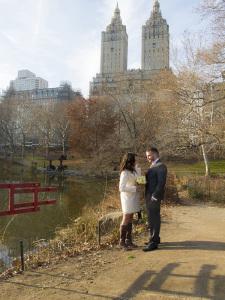 They went to the New York flower district on the morning of the wedding and had a bouquet of white roses and gypsophila put together. They went to Superior Florist on 6th Avenue and paid just $35 for this and a matching buttonhole.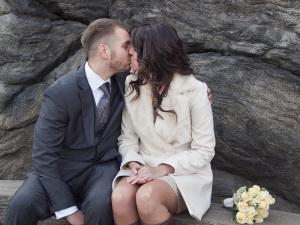 Sian and Dave stayed at the Affinia Shelburne Hotel on Lexington Avenue. They had emailed ahead to tell them that they would be getting married while they were there, so their room was upgraded. They had an apartment style room with kitchen, dining and living space as well as a queen bed and balcony with an amazing view of the Empire State Building and the Chrysler Building. The hotel has a restaurant called Rare, which they loved. After the wedding they went to the Russian Tea Rooms for champagne and high tea and in the evening we went to Times Square and watched a show on Broadway. Quite an exciting and tiring day!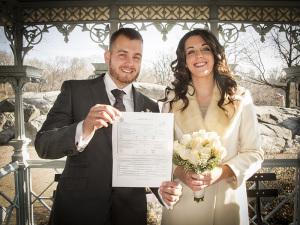 Sian was thrilled with how her wedding day went, she did have some worries that something would go wrong, but she said that everything went so smoothly. She said that "any fears or questions I had before traveling were answered immediately by you, Claire. You helped with our vows and got us a great photographer who was so lovely. I would recommend Central Park to anyone getting married. It was truly the best day ever and so unique!"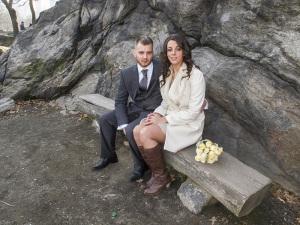 For more information on planning your own Central Park wedding, visit our website, or "like" us on Facebook for photos and more inspiring stories.