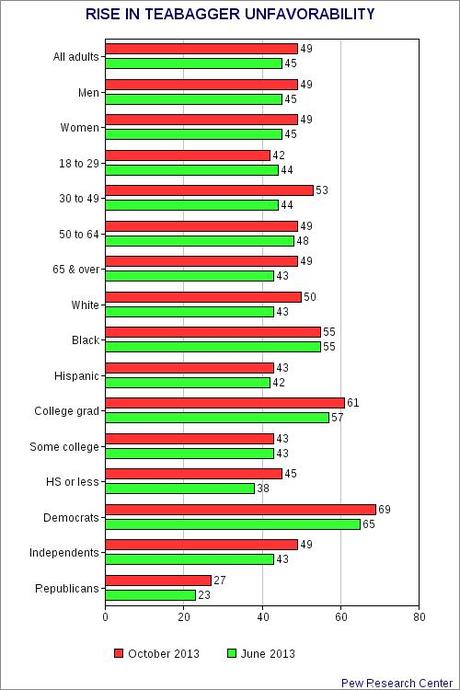 The government shutdown is over -- at least for the next three months. But those that caused that shutdown have paid a price, and the primary creators of the shutdown strategy were the teabaggers in Congress. They teabaggers were already getting pretty unpopular, but the shutdown made them even more unpopular.
In the general public as a whole, they lost another four points -- going from 45% unfavorable to 49%. And in several demographic groups (those between 30 and 49, those with a high school or less education, Independents, those 65 & over, men, women, etc.) the rise in unfavorable rating was higher than that.
But the two groups that probably hurt the most are the groups that the teabaggers depend on most for their support -- Whites and Republicans. The unfavorable rating among Republicans went up by 4 points, and among Whites it went up by 7 points. The congressional GOP caused the shutdown in an effort to please their teabagger base, but what they accomplished was to increase the public's disapproval of those teabaggers.
The demographic chart above was made with information from a Pew Research Center survey done between October 9th and 13th of 1,504 nationwide adults (with a 2.9 point margin of error).