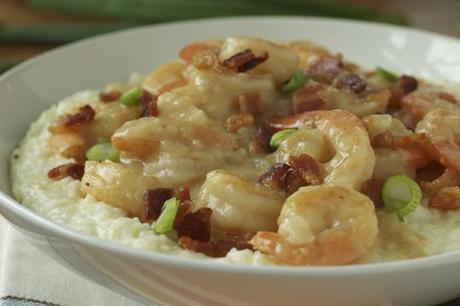 We're going to give this delicious looking shrimp and grits recipe a try from The Kitchn.
Recipe: Shrimp and Grits
For the grits
4 cups milk
1 cup stone ground grits
1 1/2 teaspoons kosher salt
1 tablespoon butter
For the shrimp
1 1/2 pounds peeled and deveined shrimp
1 teaspoon Old Bay seasoning
1 lemon, cut in half
For the gravy
6 slices bacon, diced
2 tablespoons butter
1 onion, diced
2 cloves garlic, minced
2 tablespoons all-purpose flour
1/2 cup white wine
1 cup chicken stock, preferably homemade
Kosher salt, to taste
Thinly sliced green onions, for garnish (optional)
For the grits, bring milk to a gentle boil in a heavy sauce pan. Add grits and reduce heat to medium low. Whisk occasionally at first, then whisk more frequently as the grits begin to thicken, watching carefully to make sure the bottom of the pot does not scald. Cook until the grits are thick and creamy, about 45 minutes to an hour. Add salt and butter, adjusting to personal taste. Meanwhile, prepare the shrimp and gravy.
For the shrimp, sprinkle them with Old Bay seasoning and the juice of one half a lemon. Set aside. (Please note, I left the shrimp tails on for styling purposes. It is much easier to eat them with the tails off, but it is entirely up to you.)
For the gravy, heat a large fry pan or braiser over medium-high heat. Cook until bacon is brown and almost crispy (but not quite), about 12 minutes. Remove the bacon from the pan and set aside. Drain all of the bacon grease except for 2 tablespoons. Lower the heat to medium, add the shrimp (in batches if necessary) and saute, flipping once, until pink and cooked through, approximately 3 - 5 minutes. Remove shrimp with their cooking liquids. Squeeze with the juice of the remaining lemon half and set aside.
Heat the butter in the same pan over medium to medium-high until melted. Add onions and saute until tender, about seven minutes. Throw in garlic and cook for another minute. Sprinkle flour over the onions and cook until it is absorbed, about 1 more minute. Add wine and reduce until the mixture is thickened. Add chicken stock and continue cooking until the gravy reaches your desired consistency, about 5 minutes. Season with kosher salt, to taste. Return the bacon and shrimp with its juices to the pan and reheat shrimp. Adjust seasoning as necessary.
To serve, spoon the grits into bowls. Pour shrimp and gravy on top and garnish with sliced green onions.
To reheat, add a little chicken stock to the grits and/or gravy and warm over medium-low heat.