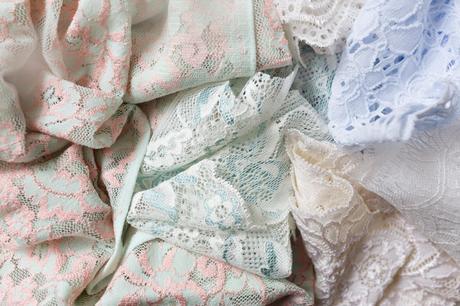 Last week, I asked this question on the Bra Making Facebook page Natasha and I recently started:
"Do you pre-wash lingerie fabrics? Personally, I don't, but I've read different opinions. What are your thoughts?"
A few comments that were received:
"I do, to be on the safe side. I'd be devastated if after all the hard work put into making a bra and all the expensive bits and pieces used, things went wrong because the fabric shrank or distorted."
"I don't pre wash synthetic fabrics. I never had a bad experience. But if I were to use contrasting fabrics together, I would prewash them to prevent bleeding."
"I prewash every fabric, either by hand or by machine. I don't always use the dryer."
"I don't prewash my lingerie fabrics before I sew my bras. However, I do wash the finished bra before I wear it. I find if I don't wash it, the sizing can be irritating on my skin."
"At Sew Sassy, their blog/catalog says not to wash it as it will roll and be difficult to work with. I just received my fabric and will wash just the white milliskin as I plan to dye it."
"Nope. One of the few things that does not get pre washed."
"I will started to prewash fabric for test garments. I got a rash while trying on the bra I'm fitting."
"I don't usually pre-wash, unless it is cotton or bamboo – something I know will shrink."
"I never felt the need before – especially delicate lace. But I purchased a bra kit that had lace in it. It didn't specify that it was made of anything shrinky. After making the bra, first wash, cold water, air dry – it shrank up like crazy! Nearly ruined everything."
"I don't wash, but did have a 'bleed' with black and ivory. That was very disappointing."
First, it's important to specify what lingerie fabrics I'm referring to. For the most part, I mean synthetics including, but not limited to, nylon, spandex, lycra, polyester, power net, mesh, lace, tricot, simplex, duoplex, techscheen.
Prewashing happens before sewing. Fabrics are washed in the same manner that the finished garment will be washed. This reduces shrinking and crocking (wet and dry) as well removes starches and other chemicals that were applied during the manufacturing process. So why would a sewer prewash fabrics for garments but not for sewing? Well, I mostly prewash to reduce shrinking, and since synthetics don't shrink, I don't prewash. Also, I don't wash lingerie as often as I do garments, and when I do, I wash them carefully by hand or by machine on the delicate cycle. I always lay flat to dry. Okay, okay, another reason why I don't prewash lingerie fabrics? Laziness. So sue me!
On Sew Sassy website, the following is written in the section about lycra and spandex fabric for lingerie:
"We have several fabrics that are suited for sewing panties as they have enough stretch to go around the body and good recovery. Do not pre-wash your fabric. Wash after the garment has been assembled."
What does Beverly Johnson, bra maker extraordinaire, have to say about it? Well, when I emailed her, she responded:
"I don't normally wash most bra-making fabric, but I would under some circumstances. I would only wash 100% polyester fabrics, such as Duoplex, if I thought I had to remove any sizing. Polyester won't shrink, so I wouldn't feel I had to do it for that reason. But sometimes the fabric from the mill is a bit stiff, and I would wash to remove any sizing. I would put the fabric in the washer AND the dryer, so that every bit of the sizing is gone. The dryer won't hurt polyester (or at least it won't hurt our Duoplex – that stuff is indestructible!). If it was a polyester/spandex like our poly/satins or Venice, I would not put it in the dryer. These fabrics are fairly delicate and I know the edges would curl like crazy! I would not be inclined to pre-wash nylon/spandex power net. It won't shrink and it normally doesn't have sizing anyway. Ditto with laces, which are mostly nylon or nylon/spandex. If the fabric is cotton, I would absolutely pre-wash. You just know cotton is going to shrink, even cotton spandex will shrink. Hot water and a dryer, and yes, it will curl. But then the worst that can happen to it has already happened, so it won't ever shrink after it is worn and washed. By the way, I would only pre-wash the whole chunk of fabric, not the bra after it is sewn up, nor would I cut out the pieces, then try to wash them! (Don't laugh – we have had one gal that tried that!)"
When I first started sewing lingerie, I overlooked pre-washing fabric. Didn't even think about it. It wasn't until recently when I thought maybe I should. There are many reasons to do so, but there are many to not. My decision? Skip it. I feel like such a bad seamstress writing that! Unless I have a fabric that I think will bleed/crock (up to now, my lingerie fabrics have all be lightly colored) or is super stiff, I am not wasting my time.
So, if you're going to prewash your lingerie fabrics, how should you? First, hand or machine wash on a low degree and gentle cycle. Use a mild or a lingerie detergent such as Eucalan. If the fabric is stretchy, don't hang to dry it if is a large yardage (approximate 2 yards or more) as it might stretch out weird. Lay flat to dry or dry in the dryer on the air setting or coolest temperature.