Matt my husband is Man United daft.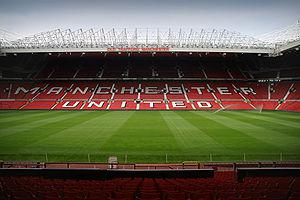 Image via Wikipedia
His passion for his team is clear to see. He even runs and jumps at the screen while shouting at the players. He goes to watch them play when he can but has never and will never miss a match.
He even had to check what dates they were playing when we were planning our wedding, to ensure the dates did not collide. If they had he told me I would be stood up. Charming.
He has every Man United football shirt known to man. I do stop at pictures, clocks etc and they are in my eldest sons bedroom as I refused to have them pride of place on the living room walls.
Matt buys 5 of the children Man United strips, the eldest, much to his dismay supports Sunderland and as he tells her if he has to touch one of her shirts he would wipe the floor with it, she makes she I do the washing and ironing the day she gives me it to wash.
The other children do not really have a choice, the strips are bought for them.
From being babies the youngest three even sported the Man United sleeping suits and booties, yes even Man United dummies.