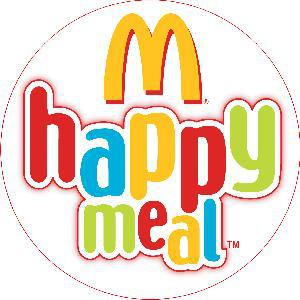 Happy Meal logo, English (Photo credit: Wikipedia)
A hoax about the banning of MacDonald's Happy Meals was traveling around Facebook like a rocked this week. I have to admit when I saw it I thought it was true, so much so that I had to go to the Facebook page of MacDonald's to see. They confirmed it was indeed a hoax.
But it did get me thinking. My first thought was well that's crazy, a trip to MacDonald's for a Happy Meal is a much loved treat for my kids and although its quite rare as we do not live near one, we will head there when passing a drive threw on our travels.
I do not worry that a Happy Meal is unhealthy, they don't eat them daily or even weekly. But I have heard of mums who do feed their kids nothing but take away foods and I do understand the concern.
I think as a mom we have a responsibility to ensure any fast food is ate in moderation and it is the parents who should be responsible for what their kids eat not the fast food outlets.
In a while what do I think of banning Happy Meals; sheer crazy, they taste so nice.
What do you think? Should MacDonald's Happy Meals Be Banned? Leave me a comment to let me know your views.
This post is a debate corner post by The Real Supermum