This post is inspired by one of my best friends who decided it was time to tell him how she feels.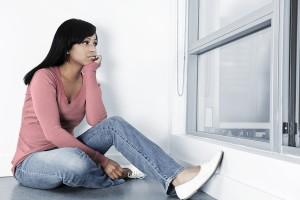 Should I Tell Him How I Feel?
I see this question a lot in the Christian Single community. Should I tell him how I feel? Is it my place as a Christian woman to express my feelings first?
I am (for the most part) in the camp that says when a man has an interest in a woman, he will express it.
I know it can be frustrating, waiting and wondering if he is ever going to say something. He's friendly, shares the same interests, and even ventures in the territory of flirting with you.
Your heart is captured and all he has to say is, "Will you ___" and you're saying yes before he finishes the question. It could be an invite to dinner, coffee, a concert…you don't care…the answer will be, "Yes."
But it never happens.
You feel as though you are both getting closer but he pulls and pushes you in and out of his world.
In this instance, I've found more happiness in moving on. Life is complicated enough and God's blessings do not come with sorrow.
In the case of my friend, her circumstance was different. Her situation made me think again about a woman's prerogative to express how she feels. I am very proud of her.
This man was not someone toying with her emotions. They only met very briefly on a few occasions. He lives out of town and they don't share the same circle of friends.
There was something about him that touched her heart and she had the courage to make it known. A rare opportunity to see him was present, so she made her way to see him and expressed her feelings.
No, she did not tell him that God said that he was supposed to be her husband…
Please don't EVER do that.
Her approach was honest, sincere, and pure.
I know there are many who may not approve of her action, but not everyone's condition is the same. The risk of rejection is frightening, but I believe that if we take action with a right heart, God will be our guide and protector.
Will a relationship bloom because she told him how she feels? Right now, it's too early to say. But if it doesn't, she can move on with her life without question. She's content that she did it and now has closure.
Should you tell him how you feel?
You have to weigh your circumstance and apply wisdom. If he has plenty of opportunity to express his heart to you, but keeps you guessing, it may be time to move on.
Be mature in the Spirit and wise about what is and is not good for your life.
Please share your thoughts in the comment below.
Subscribe to Blog via Email
Enter your email address to subscribe to this blog and receive notifications of new posts by email.