I'll be up front with you. I like Mike Huckabee: not everything about him, but I don't like everything about anyone, including (especially) myself. As a governor, he demonstrated the ability to be successful in an executive position, while maintaining his integrity as a Christian. My only question is, "Can he win?" If he can't win, then we need a candidate who can. As my title implies, I'm asking you, our readers and writers, for your thoughts. ~ TD
---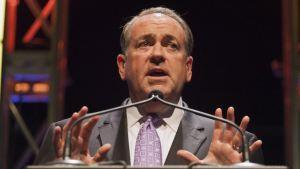 WeeklyStandard.com
Huckabee: 'Don't Make Me Come' to Washington
(A president needs the…)'Patience of Job, the strength of Samson, the courage of David, the perseverance of Noah, the intellect of Paul, the wisdom of Solomon, and the forgiveness of Jesus '
By Daniel Halper Jan 3, 2015
Mike Huckabee kicked off his final show on Fox News with a lesson on governing — and a warning:
The front page of Friday's Wall Street Journal was a story about White House officials indicating that President Obama was planning on doing less by executive order in the coming year and instead working through the normal process of negotiating with Congress. What a novel idea: a president, after six years in office, suddenly discovering the constitutional process of legislation that involves all three branches of government. Look, I hope it is true, but if past performance is an indicator of future performance I got no reason to be overly optimistic.
"My own frustration with President Obama is not merely the dramatic point of view that I have with him, between his liberal views and my conservative ones. It's as much with his squandering the opportunity that he had that he do he said he would do … back in 2008. …
"Quite frankly governing is hard work. It requires the patience of Job, the strength of Samson, the courage of David, the perseverance of Noah, the intellect of Paul, the wisdom of Solomon, and the forgiveness of Jesus. And there is no substitute for time spent building relationships with people who don't like you and who don't want to work with you. In the words of that great political philosopher Mick Jagger, 'You can't always get what you want.' …
"Now we haven't seen much of that out of Washington. But I would welcome the approach. So here's hoping that in the new year of 2015, we see the fine art of governing and if not, I will say what parents often say to their kids, Don't make me come up there."
Huckabee will reportedly end his TV show with tonight's episode to explore a run for president.
http://www.weeklystandard.com/blogs/huckabee-dont-make-me-come-washington_822680.html
---