Evening all,
I have a post on Genting for today.
For quite a while, I have been bearish on Genting. In part, I did not buy into the hype about Genting and casinos. But, I obviously had technical reasons for my view. In the last several months, Genting has been putting in solid gains. A large part should be attributed to overall market strength. A significant resistance level at $1.48 was breached in January, and now that becomes strong support.
Genting has been in a clear downtrend for a long time, and I illustrate that with a red parallel channel. Although it may seem like Genting should look bullish to me since it has gotten out of the channel, I do not use channels in such a way. I still think Genting will continue in the long-term downtrend unless a see strong reversal signs. The golden cross (50-day MA crossing above the 200-day MA) is a start but I prefer relying on chart patterns for reversal indication. If Genting falls below the support of the $1.50 region, I think it is a clear case for continued downside. In the short-run, it is possible that Genting trades within the range of $1.50 and $1.75. I do not like to speculate too much but if that happens, Genting will look like it wants to form a large inverted head and shoulders. That remains to be seen, so I will watch the $1.50 region for potential trades.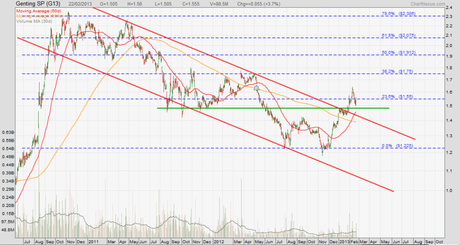 All analyses, recommendations, discussions and other information herein are published for general information. Readers should not rely solely on the information published on this blog and should seek independent financial advice prior to making any investment decision. The publisher accepts no liability for any loss whatsoever arising from any use of the information published herein.