Way back in March I wrote a post called Short Fungo Drill.  To read that post which provides an explanation of the drill, click HERE.  I also provided a couple reasons why I felt the drill was good for infielders and coaches.  Here are those reasons:
It helps the guy with the fungo if he is not good in his ability to toss the ball to himself when hitting fungos (poor self-tosses are usually what hurts the fungo-challenged the most)

The infielder benefits because he has the ability to practice seeing the ball off the bat in a more realistic manner than if the coach tossed the ball up to himself.
I'm bringing it up again because I saw a photo online that appears to be a spring training photo showing the drill.  Here it is …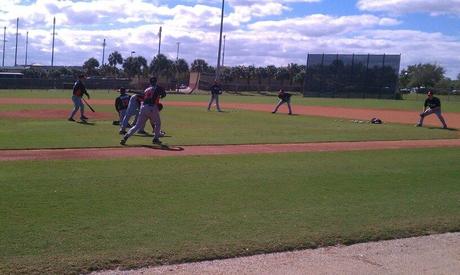 Now that many players/teams are starting to head indoors, coaches will need to find drills that are worthwhile as well as confined enough to fit in smaller spaces.  This drill is one of them.
Next post:  The science of "looking" at the ball