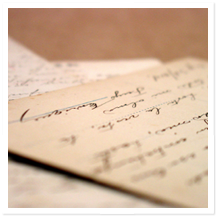 Funeral poems can help us express our feelings during a tragic time in our life. The short funeral poems listed below are commonly used for funerals and can offer comfort to grieving individuals. The funeral poems can be used because of the significance of the words, or because you or your loved one enjoyed reading the poem.
There are a number of ways to use short funeral homes to pay tribute to a loved one. A funeral eulogy is a common place where one or more funeral poems are used. Using a poem in the eulogy can help to express your emotions without having to think of the words yourself. Friends and family in attendance will also be able to find comfort in the poem and read it in the future to remember their loved one.
Short funeral poems can also be used in the obituary, service folder or register book. Friends and relatives attending the funeral may choose to use a funeral poem in their sympathy message or condolence letter. Or, the family may choose to have a funeral poem engraved on their loved one's headstone or on a plaque. Any of the following short funeral poems will make a wonderful addition to a loved one's memorial.
Short Funeral Poems
Perhaps they are not
stars in the sky,
but rather openings
where our loved ones
shine down
to let us know they
are happy.
- By Anonymous
No farewell words were spoken,
No time to say goodbye,
You were gone before we knew it,
And only God knows why.
- By Anonymous
Though I am dead grieve not for me with tears
think not of death with sorrowing and tears;
I am so near that every tear you shed
touches and tortures me though you think me dead.
But when you laugh and sing in glad delight,
my soul is lifted upward to the light.
Laugh and be glad for all that life is giving
and I, though dead, will share your joy in living.
Though I am Dead – By Anonymous
Gone yet not forgotten,
Although we are apart,
Your spirit lives within me,
Forever in my heart.
- By Anonymous
It's always those who love the most
Who most miss the one they love,
When comes the parting of the ways,
And clouds loom dark above;
But tears will pass, your skies will clear
Then will you smile again,
And comfort find in memories,
Which now bring bitter pain.
Those Who Love – By Anonymous
Your life was full of loving deeds,
Forever thoughtful of our special needs,
Today and tomorrow, my whole life through,
I will always love and cherish you.
- By Anonymous
A precious one from us has gone,
A voice we loved is stilled:
A place is vacant in our home,
Which can never be filled,
God in His wisdom has recalled,
And the boon his love has given,
And though the body slumbers here,
The soul is safe in heaven.
- By Anonymous
Don't be sad-
I am in a snowflake,
I am in the rays of sun,
I am in the sparkling of stars.
- By Anonymous
Love is pure energy and
No matter how hard you try,
You can never kill love
Because pure energy can't die
The feeling of love can fade,
And the body can cease to give,
But the energy created by love
Is immortal and continues
To live.
Love is Immortal – By Anonymous
Nature's first green is gold,
Her hardest hue to hold
Her early leaf's a flower;
But only so an hour.
Then leaf subsides to leaf.
So Eden sank to grief,
So dawn goes down to day.
Nothing gold can stay.
Nothing Gold can Stay – By Robert Frost
With tears we saw you suffer,
As we watched you fade away,
Our hearts were almost broken,
As you fought so hard to stay.
We knew you had to leave us,
But you never went alone,
For part of us went with you
The day you left your home.
The Day You Left – By Anonymous
The tide recedes, but leaves behind
Bright seashells on the sand.
The sun goes down but gentle warmth
Still lingers on the land.
The music stops and yet it lingers on
In sweet refrain.
For every joy that passes
Something beautiful remains.
The Tide Recedes – By M D Hughes
I cannot say and I will not say
That she is dead – she is just away.
With a cheery smile and a wave of a hand
She has wandered into an unknown land,
And left us dreaming how very fair
It needs must be since she lingers there.
Away – By James Whitcomb Riley
Warm summer sun, shine kindly here;
Warm southern wind, blow softly here;
Green sod above, lie light, lie light;
Good night, dear heart, good night, good night.
Warm Summer Sun – By Mark Twain
Break not a flower, nor inscribe a stone
Nor when I'm gone speak in a Sunday voice
But be the usual selves that I have known
Weep if you must, parting is hell
But life goes on, so sing as well.
If I should go before the rest of you – By Joyce Grenfell
Writing your own poem for a funeral can be very difficult. Most of us find it very challenging to put our thoughts in to words, especially during the tragic situation where a loved one has passed away. Luckily there are a number of short funeral poems available to use to expression our feelings.
It is important to cherish the fond memories we share with our friends and family. It will always be difficult to say goodbye to a loved one who has passed away, but if we think about all the good memories with that person who had left us, every minute will be worth it. Read the short funeral poems listed above and find the perfect poem for your special someone use it to pay tribute to his or her life.