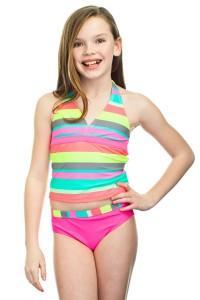 Pre-teens don't want to look like little girls, their bathing suits shouldn't either
Just like their stylish older sisters and moms, pre-teens want to look cute and fashionable when they head out to the pool this Summer. While they aren't little girls anymore, they aren't quite ready for women's sizes, so sometimes it can be hard to shop for swimsuit that are both practical and have a little personality without being over the top or too mature for their age. Not to mention, with so many different types of swimsuits to choose from, narrowing it down can be a little daunting (sound familiar?).  But don't fret: whether she is in a tomboy stage or is super duper girlie, we have a few style and shopping tips to keep in mind that'll make shopping for a day at the pool or water park a piece of cake!
One-piece Swimsuits
A one-piece bathing suit is still the easiest suit to shop for at this age. The fit is universally flattering, and with such a wide range of colors and patterns available, the hardest thing you'll have to decide is if she wants to stick with a classic suit with standard thin straps, or if she'd like one with ruffles to add a little more interest.
You Might Like: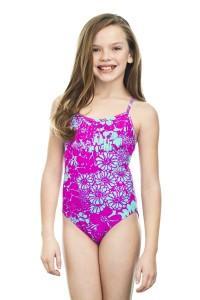 Raisins Girls Totally Tropical One Piece
$42.00
$33.60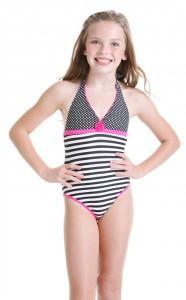 ANGEL BEACH BETTY BOOP ONE PIECE
$34.00
$16.99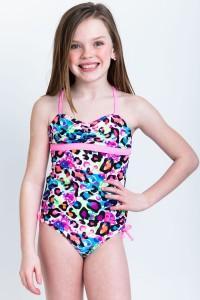 Hey Kitty One Piece by Angel Beach
$17.99
$13.49
Tankini
A tankini is great for the girl that's ready to step up from a one-piece, but isn't really a fan of full-on bikinis. If she's started to develop in her bust area, a tankini will allow you to mix and match her suits to fit her body while still keeping everything covered. Be sure to look for light padding through the top, and if she has a little tummy she wants to camouflage, pick one that has ruching on the side.
You Might Like: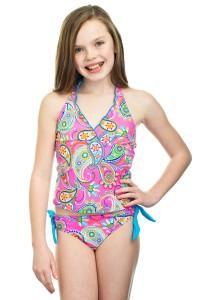 Breaking Waves Paisley Paradise Tankini
$24.00
$16.99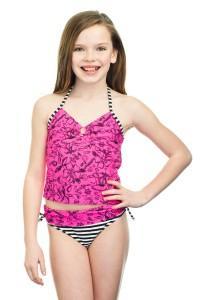 Angel Beach Summer Fun Tankini
$34.00
$16.99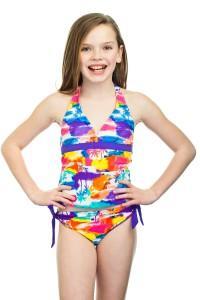 Breaking Waves Washed Up Tankini
$24.00
$16.99
Bikinis
Bikinis are fun choices for girls that are both really girlie, and those that are a little more athletic. With bikini pieces, pair bright, solid hues with graphic and floral prints for endless mix-and-match possibilities. The bikini tops can also be worn with board shorts, so if she likes to boogie board or play volleyball, she can still be active without feeling constricted. As with a tankini, look for light padding through the top, and if she's at a point where she may need a little bust support as well, a halter style with thicker straps may be ideal.
You Might Like: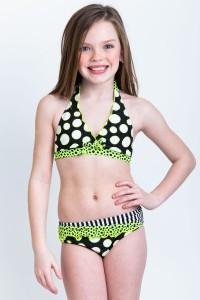 Dot Remix Bikini by Breaking Waves
$19.00
$14.25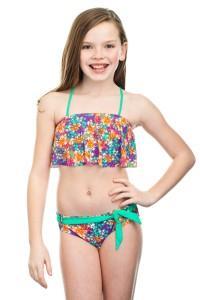 Raisins Girls Starstruck Be Free Bikini
$40.00
$32.00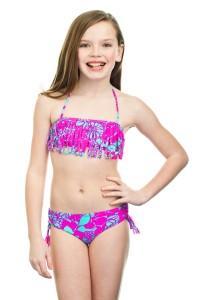 Raisins Girls Tropical Fringe Bikini
$40.00
$32.00
Cover-Ups
While shorts and a tee shirt are natural go-tos when prepping for a day at the beach, nothing will ever beat the ease of a cover-up.  She can quickly slip it on over her bathing suit with a pair of flip-flops to get her out of the house in less than 5 minutes. When it's time to leave from the pool, it can then be worn as a dress and paired with slightly dressier sandals, so you won't have to think twice about where to head for dinner. Choose a bright, funky pattern that'll stand out in a crowd (and her bag!) and she'll be set for her day in the sun with her friends.
You Might Like: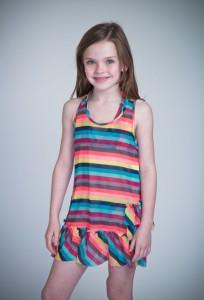 Sweet Sunshine Cover Up by Raisins Girls
$34.00
$20.40