3 reasons why an integrated retail transportation approach is the perfect ensemble
There's no doubt about it, today's multi-source, multi-channel world, no supply chain is as complex as the retail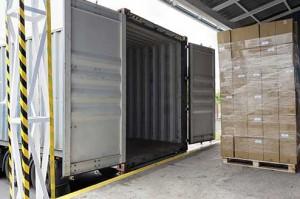 supply chain. It's one of the longest, most dynamic and seasonal in the world. New retail formats, distribution channels, store openings and closures, coupled with a dynamic portfolio of vendors, products and sourcing locations, are driving unprecedented complexity.
This complexity demands a flexible value chain, and transportation model, that supports vigorous product flows, delivery schedules and network designs. Auburn University recently published a study surveying hundreds of retailers about their top supply chain issues and priorities.[1] The top three: striking the right balance between enhancing customer service, containing costs and improving safety.
The challenges retailers face aren't limited to sourcing goods, seasonality or engaging consumers across digital and brick-and-mortar channels. Retailers wrestle with the same transportation challenges every industry does: a toughening regulatory environment, rising fuel costs and a driver shortage that's constraining freight capacity.
The good news? A blended transportation solution that combines for-hire and dedicated fleets may be the perfect way to ring up retail profits.
Fleet and for-hire carrier networks can complement each other effectively if they're well-designed, monitored and regularly adjusted. An integrated transportation doesn't just strike the perfect balance of customer service and cost control – it naturally raises the safety bar. Here the 3 reasons and a closer look at why a blended retail transportation solution makes all of this happen:
Customer service
As the industry transforms from mass volume, low-cost fulfillment channels to flexible channels that cater to changing consumer needs, retailers are shifting their supply chain strategies to be more customer-driven. This means "following the guest" whether they're ordering online and picking up in-store, same-day shipping or keeping store shelves fully stocked.
How a blended solution can help: With a dedicated fleet and trained drivers, retailers are assured of on-time delivery. They can get and keep products on shelves and ensure consistent service. Properly maintained vehicles and equipment prevents issues that can delay deliveries and disrupt schedules. What's more, by working with qualified, strategic for-hire carrier partners, retailers can lock in driver/freight capacity for core shipments.
Cost containment
As demands on the industry grow, retailers are scrambling to figure out how to invest in an omni-channel future while controlling costs in the short term. Balancing the two is one of retailers' biggest supply chain challenges.
How a blended solution can help:A transportation management system supported by a blended transportation network enables retailers to optimize fleet and for-hire solutions. Instead of securing capacity on an ad-hoc basis and paying steep premiums on the spot market or expediting freight, costs are more predictable. Additionally, by outsourcing to a dedicated provider, they can avoid the upfront capital outlay for new trucks, preserve capital and avoid the expenses and risks of operating their own fleets.
Improving safety
Safety is one of four key performance indicators of a high-performing supply chain. The increasing emphasis on safety metrics is likely a result of increased regulatory scrutiny. While much of retailers' focus on safety has to do with warehouse staff and processes, a blended transportation solution extends that focus to transportation.
How a blended solution can help: Dedicated fleet drivers are trained to prevent injuries and crashes and to safely load and unload vehicles. Moreover, blended solutions offer safety services & resources retailers might not have in-house: driver training, driver screening, compliance, and risk management programs. Preventive maintenance routines and carrier management compliance programs keep minor issues from becoming safety risks on the road and in the field.
Getting there … A blended approach to transportation can be a smart way to solve driver, capacity, safety and regulatory challenges. Blended solutions typically provide a holistic view of transportation network cost and service performance.  With visibility that makes it easier to monitor safety, cost and service, you can better manage all three – and access the network data and business intelligence it takes to boost efficiencies and reduce costs and risk.
Scott Nemeth is Group Director of Transportation Management (TM) at Ryder. He is a logistics and operations professional with more than 22 years of experience in transportation management solutions, business development, implementation, product development and account relationship management.  Throughout his career, Scott has implemented and operated numerous TM solutions for customers across a variety of industry segments.
---
[1]
Source: "The State of the Retail Supply Chain, Essential Findings of the Fourth Annual Report,"