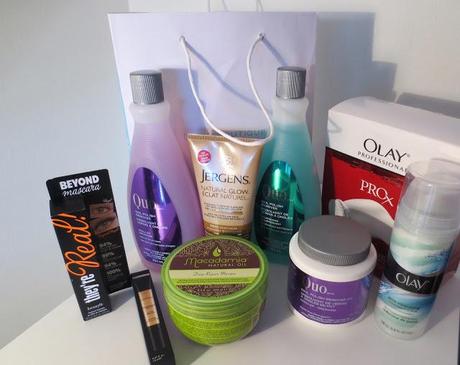 Hi everyone! I went to Shopper's Drug Mart over the weekend because they were having their "Spend your Points Event". If you're not familiar with Shopper's Drug Mart they have a points program and when you get to certain levels you can redeem the points towards free products. I had the highest amount of point (plus some) so I was able to redeem $200 worth of free stuff! I think normally 95,000 points would redeem $170 worth but since it was the "Spend your Points Event" it was an additional $30. See below on how I got so many points! 

I have been waiting for the perfect time to spend these points wisely and to also pick out some things that I wouldn't normally purchase! These aren't the only products I purchased, just the one's that were a little more exciting for a haul post! (I did have to pay the taxes on these products but that's all!)
A few things that I needed...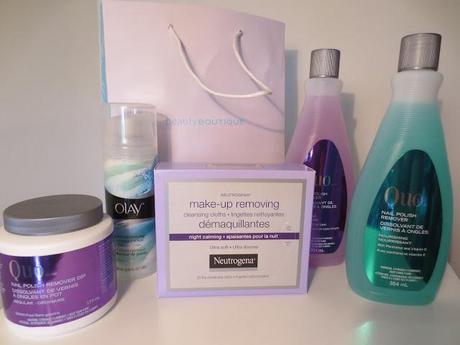 Nail Polish Remover: These were buy one get one free. I don't think I've ever used the Quo brand before so hopefully it's good! I wanted the Sally Hansen nail polish remover but I couldn't find it and these were a good price!
Neutrogena Makeup wipes: I love these! They don't break me out and they remove all my makeup super easily! I prefer the night calming ones over the blue packaged ones.
Olay Pore Minimizing Cleanser & Scrub: I LOVE this cleanser. I use it once a day and it just exfoliates the face and leave it fresh and clean!
Quo Nail Polish Remover Dip: I love using this stuff when I am in a hurry and want to take off my nail polish. All you have to do is dip each nail in the polish remover and your nail comes out (most of the time) polish free!
Some things that I wanted to try out!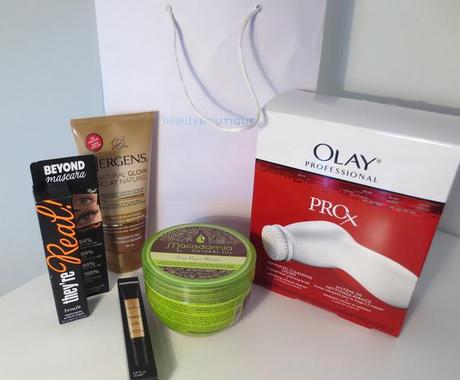 Macadamia Natural Oil Deep Repair Masque: This is definitely something I've had on my list for a while! I've heard so many great things about it and I love trying new deep conditioners. This product was $32 therefore super happy I got it with my points!
Jergens Natural Glow: I wanted to get this to use in between using my St.Tropez Bronzing Mousse (review coming soon!). I got the medium to dark shade which has been working out perfect!
Smashbox High Definition Concealer: I have been on a concealer kick lately. I recently purchased the Tarte Amazonian Clay concealer which I love but for some reason I needed to try out this one too. I purchased it in the shade light and love using this product as under eye concealer.
They're Real Benefit Mascara: I have been loving the sample size of this product I received as the birthday gift from Sephora and really wanted to get a full size. I love how lengthening this mascara is!
Olay Pro-X Advance Cleansing System: I really wanted to get the Clarisonic but this product is like $150 cheaper. So I decided I'll start with this and see how I like it. I haven't tried it yet but will do a review on it in a couple months once I start using it!
I didn't buy any nail polish!! Amazing! haha
How did I get so many point!?
-Well for one I have been collecting for a few years now and always saved my points rather than spend them once I hit a redeemable level.
-Shopper's Drug Mart prices are comparable to other drugstores which are normally more expensive than other places such as Wal-Mart or Target. So I would definitely suggest going on weekends when they have there sales. Also going on a weekend is usually when they have different events like "20x the points when you spend $50" etc. (I forget exactly how many points that is might be around $20 worth in points)...so you can see how it adds up.
-The Shopper's Drug Mart near me has a lot of higher end brands like Benefits, Smashbox, Clinique, Stilla, tons of perfume brands, the list goes on and on! Therefore, sometimes I've purchased various higher end products that I need from Shopper's rather than Sephora or somewhere else.
These are the main things that I've done, definitely check there flyers to see if the stuff your wanting is even on sale that week otherwise you might be paying a few extra dollars since this is a drugstore. At that point, the extra points might not be AS worth it if your spending more money for the product. Anyways that's just my opinion:)
Have you hauled lately? Leave your link in the comments and I will check it out! They are one of my favorite posts to read!
Thanks for reading!
Follow: Twitter