Our family does a lot of writing, whether it's at work, school or home. Therefore, we're kind of picky about the pens and pencils we use. Everyone has their favorite items. For my son, who's in middle school, he loves mechanical pencils. He likes that he never has to sharpen them, and they look way cooler than a regular pencil.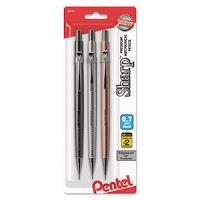 A new favorite is the Pentel Sharp Mechanical Drafting Pencil from Shoplet. The 0.7 mm Medium point makes it the same size as a #2 pencil, so it's perfect for school use. There's also an eraser under a cap so he can fix his mistakes. It's pre-loaded with 6 sticks of Pentel Super Hi-Polymer HB Lead, so it will last a long time before needing a refill. And the 3-pack we received for review contained cool metallic colors that caught his attention immediately. He's been using these pencils for school ever since!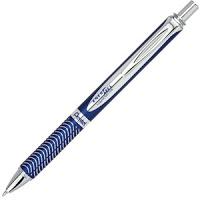 As for me, I love gel pens, so I am thrilled with the Pentel EnerGel Alloy Retractable Gel Pen from Shoplet. The medium-sized point (0.7) is exactly what I like. It's small enough to edit documents but large enough for good visibility. It just glides across the paper, and it dries quickly so it never smudges (perfect for left-handers). Ridges on the lower half keep my fingers from slipping. And the attractive royal blue color makes it a good fit for men or women. This is my new favorite pen!
Shoplet has a terrific assortment of Pentel products, like those featured above. They also have a huge selection of office supplies, cleaning supplies, and medical supplies. They even carry office furniture! In fact, they are the #1 e-tailer of business and office supplies. I hope you'll stop by Shoplet today for all of your home, office and school supplies. You can also visit them through the following sites below:
Facebook: https://www.facebook.com/Shoplet
Twitter: @Shoplet
Pinterest: https://www.pinterest.com/shoplet/
Blog: http://blog.shoplet.com/
Youtube: https://www.youtube.com/user/Shoplet
Instagram: https://instagram.com/shoplet/ Disclosure: I received complimentary product samples to facilitate my honest review. All opinions are 100% my own.