Hellooo Shimmers,
It's on my todo list so thought I better do it!!
So its a Fashion post today. I was shopping at the weekend and so thought I would do a shopping haul post to show you guys what I bought.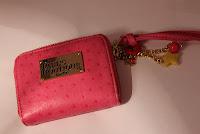 I'm not usually a fan of Paul Boutique but when i saw this little purse I fell in love with it. Its a hot pink colour, with a PB keyring (which are worth £15) and it only cost me £10, that's NOT a sale price that's the actual price :o. I am delighted with my purchase and it gets a 10/10 from me and my money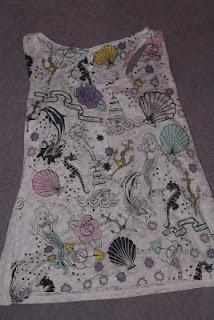 This is a top from debenhams in a range called Henry Holland and it was £16 it is perfect for summer with its seaside theme design perfect for the beach with some white shorts and flip-flops. It's basic yet lovely I love the yellow and turquoise blue.. I think I may even purchase a yellow cardigan to go with it ... Hmmm... Tell me what you think.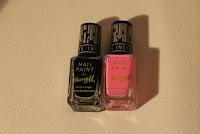 These are Barry M Instant effect nail polishes- cracking nail polish. You put a base color on the bottom then apply this and it cracks so you can see the base color and the cracking color. They make your nails look that bit more exciting. I love Barry M nail polish the normal polish is £2.99 and the instant effect ones are £3.99 (I think) they come in so many different colours. I have the pink and black instant effect ones and a bright blue normal one and I love them.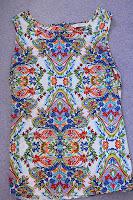 Its getting close to the summer time, when you can be in the garden in shorts a t-shirts... can't wait. I was in New Look the other day and I saw this colourful top and immediately thought of summer I love all the different colours in it and the pattern. It looks great with shorts but also with pink/purple coloured jeans so you can wear it right now. I love wearing it with purple jeans and wedged sandals it looks lush. It was a bargain aswell at £14.99 sterling, its like a silk material and it is soo comfy to wear going shopping, to the park or out for dinner. It is definetly my favorite top at the moment.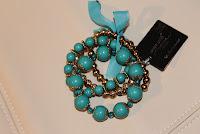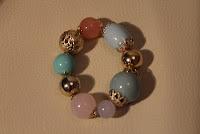 Also in New Look I bought these lovely braclets. I love the colours of the one on the left, they are pastel colours blue's, peach, lilacs and gold and lush for summer.
The one on the right is bright turquoise blue and some gold ones too, which I love equally as much. Both Braclets were £4.99, which I think is a great price. (But it was also buy one get ONE FREE on all jewelry thats why I bought 2!!)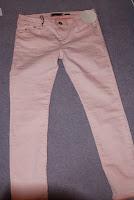 Also I went into River island where I purchased a pair of light pastelly pink coloured skinny jeans which were in the sale for £20 only £20 that is a truley magnificent bargain, considering they used to be £40 and I love them.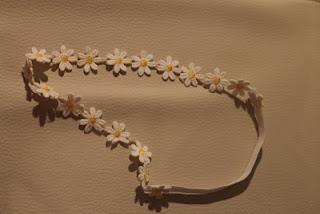 Then we went to primark where i bought this gorgeous daisy headband for £1.99. It is so summery,it so cute and adds that little extra something to outfits. And it was so cheap they have lots of different styles of headbands so there is plenty to choose from if you don't like daisies. They are the perfect summer accessory.