A few days ago, to thank one of my reader on

Facebook

who kindly invitated me to read his book, I posted a picture of me by the female photographer Frédérique Pottier. I just thought that it would be a good idea to repost it on the blog along with another one of this shooting and my thoughts about it.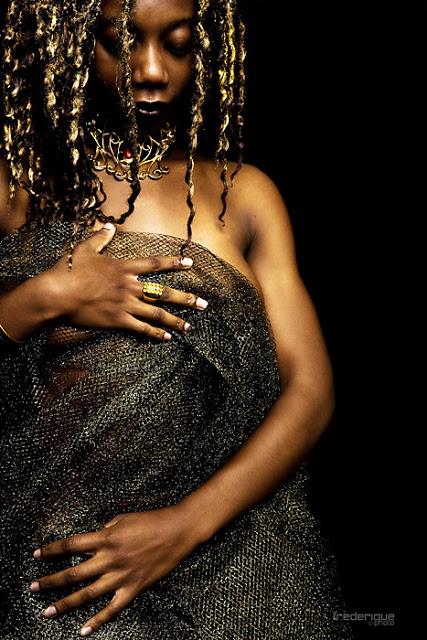 Who ? Frédérique Delabrousse (now Frédérique Pottier)
Where ? In Frédérique studio in Libourne, France
Wanted. When Frédérique proposed me this shooting, she insisted on the fact that she looked for a long time for a fabric with a particular blue to highlight my skin color. We did photos with this blue fabric and with an other fabric but this time with gold details.
Feeling. Well, when I received a mail of Frédérique I was literally jumping all over my room because I really wanted to do photos with her. As a woman she has her own way to represent femininity. It was thanks to her that I began to take in account what were my qualities as a model: my skin color, my athletic figure, my hair and my eyes. This has nothing to do with me feeling all beautiful, on the contrary, it is more being conscient about my appearance and my femininity. It was thanks to this shooting with her that I began having my own thoughts about me as a model and what I wanted to express as a woman.
I wrote the text accompanying these photos a long time ago on my Tumblr. But I think it was worth reposting it here not only to thank my reader but also to give a beginning to two sections : one which will be about femininity and the other one which will be about my experience of being black. Reading what I wrote made me realize that modelling gave me the strength to totally embrace both my being a woman and my being black. 
I must thank you my readers because I would have never thought about writing these two sections if not for you. It was indeed the positive feedbacks I received on my post
"All about my hair"
that made me aware that as a blogger
I have a responsability
. and I can't thank more my friend Swati to have beautifully expressed the importance of a bloggers words' on her
blog
. So expect some new content on Incognito !
Now that everything that should be said have been said, my question is what are you thoughts on the pictures above ?