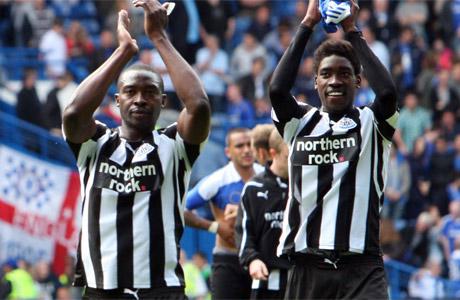 One thing you should know about me is that I'm a Newcastle fan. A big one. At the supposedly adult age of 22 my curtains, nightlight and wallet are straight from the Newcastle catalog (and I only recently replaced my Newcastle bedding).
Now we all know what you expect with a black striker (I'd say this is more stereotyping than racism, but...) - they're always strong (Didier Drogba), fast (Mario Balotelli), and know how to give the ball a good boot (Clarence Seedorf). Newcastle have had some decent black strikers who have displayed these traits; Les Ferdinand, Faustino Asprilla and Obafemi Martins to name a few. But what happens when your black striker is sluggish, not especially strong, and rather than spanking the ball usually fluffs it? You get Shola Ameobi, a player who I like to think of as having the worst first touch I've ever seen, and yet somehow has managed to stay at a "great" club like Newcastle for over 10 years. In this time, amazingly he has scored 48 goals for the club, ten of which were scored in the Championship (this is testament to the lack of quality of Championship defences), and has probably fluffed twice as many chances. Alan Shearer scored more than three times as many goals in the same time frame (albeit with a few more full appearances).
On this evidence, I think I could be forgiven for being less than enthusiastic upon hearing the news that Ameobi's younger brother Sammy had joined the club. The family's middle brother Tomi was briefly with Newcastle from 2003-05, and proved to be even shitter than Shola, and was swiftly shipped off to Leeds United where he has rightly remained, far far away from the Premier League. So I was rather pleasantly surprised when against Scunthorpe in the League Cup, young Sammy Ameobi casually dribbled past a couple of players, displayed an impressive turn of pace, and struck from 20 yards out to score a winner in extra time. Sure, it's not quality opposition, but Sammy's only 19 years old, and shows a huge amount of promise for the future. Manager Alan Pardew says that he needs to learn to cope with the physical demands of the Premier League, so whilst he may not shine this season, there is hope for goals from one of the Ameobis. I don't know whether Shola or Sammy is the apple which fell far from the tree, but in terms of footballing style and ability, it seems, on the little evidence we have, that these brothers are worlds apart. It's great news for Newcastle who still lack a class striker, however considering that Newcastle has become the selling club that it now is, I would guess that he won't be with us in a couple of years. At least we'll get some dollar.ps. Here's a video of the wonder goal. Simply beautiful...