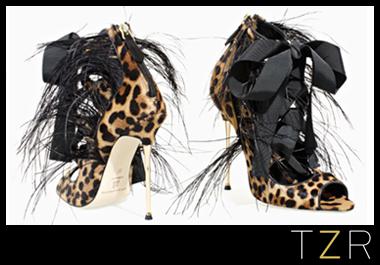 I've seriously died and gone to heaven.  I open up my email earlier today and look what is featured in the brand new "TZR" a.k.a. The Zoe Report titled Leopard Launch courtesy of Team Zoe.  Let me introduce the Brian Atwood "Pazza" Sandals!  They are to die for aren't they?  I think so and with a sassy little LBD, W-O-W!  I'm going to give this one a double W-O-W.  Sadly, these sassy little numbers won't be making it into my closet anytime soon.  But, it would be nice if they did!
Your thoughts my dears...?  And I seriously don't care how much my feet would hurt either because they would look absolute divine on!  Oh yes they would.
Have a wonderful evening.  And I just couldn't resist sharing this sexy pair of shoes.  I just couldn't.  Oh, and if you haven't signed up for The Zoe Report(s) as of yet...I highly recommend it.