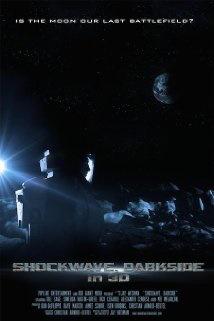 Director: Jay Weisman
Writer: Jay Weisman (Screenplay)
Starring: Mei Melancon, Bill Sage, Sonequa Martin-Green, Rich Ceraulo, Alexander Cendese
Plot: It is the last, great war. Out of the wreckage of a troop transport, five soldiers on the way to battle find themselves stranded on the dark side of the moon. Cut off and behind enemy lines, they start a dangerous journey through snipers and minefields back to their home territory. As their numbers dwindle and nerves fray, they make an amazing discovery about the moon that just might save their lives.
There may be spoilers the rest of the review
Verdict: Tries to Hard
Story: Shockwave Darkside starts when five soldiers in the middle of a war for water in space The Machine (Melancon), Dalton (Sage), Private Lang (Martin-Green), Corporal Kim (Ceraulo) and Private Schorr (Cendese) who get shot down behind enemy lines where they must use their experience to beat the enemy.
As the survivors travel across the surface they find themselves having to come up against the enemies who are tracking them down and with a rookie on their team it looks like the four others will have to deal with the reality of war for the simplest of resources water.
Shockwave Darkside ends up being a film that just has too much moral questions going on with an overall plain and unfinished storyline. We get the traditional war idea fighting over limited resources which works but just going against an enemy we never really meet doesn't help. We have way too much shot from inside the helmet which doesn't give us much because it all feels really old style. The costumes for the soldiers is painfully low budget and almost comical.
Actor Review
Mei Melancon: The Machine is the strict leader of the unit, she won't let anyone fall out of line to make sure she and her team make it back alive. She knows how dangerous the enemy is too. Mei does well but in the end almost gets made look very average.
Bill Sage: Dalton is the second in command who has been involved in this war since before it started, the most experienced in battle against the enemy that takes no prisoners. Bill doesn't do too much in this determined solider role.
Sonequa Martin-Green: Private Lang is one of Machine's trusted soldiers even with her limited experience she tries to help the rookies but with little effect. Sonequa doesn't get into this role enough.
Rich Ceraulo: Corporal Kim is the religious member of the team believing in what he does to get through the war. Rich is average like the rest in this role.
Support Cast: Shockwave Darkside has only a few small part set of supporting cast that don't do much.
Director Review: Jay Weisman – Jay doesn't seem to give us a full story only the opening to something big.
Action: Shockwave Darkside has average action with most things happen off camera.
Sci-Fi: Shockwave Darkside puts our characters in space which is all that is needed.
Settings: Shockwave Darkside uses the settings really well to show how isolated the characters are.
Special Effects: Shockwave Darkside doesn't have the best special effects.
Suggestion: Shockwave Darkside is one to wait for the next chapter to watch in one go. (Save)
Best Part: It is a good builder.
Worst Part: Not enough to build.
Believability: No
Chances of Tears: No
Chances of Sequel: Yes
Post Credits Scene: No
Oscar Chances: No
Runtime: 1 Hour 27 Minutes
Overall: Good builder but lacks enough to pull us in
Rating