Selena Gomez appears in the "Demand a Plan" anti-gun video (38 second mark).
Guess what she's doing in her next movie?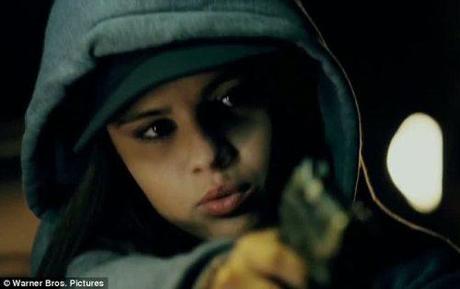 Gun-toting Selena Gomez tries to steal car as she continues bad girl streak in first trailer for Getaway
DailyMail: She shed her Disney princess image once and  for all with a role in the gritty R-rated Spring Breakers, released earlier this  year. And it seems that Selena Gomez is enjoying  her turn as a bad girl. The multi-talented 20-year-old can be seen as a gun-toting hacker in the newly released first trailer for Getaway.
The film follows Ethan Hawke as washed up race car driver Brent Magna, who is roped into helping out the mysterious man behind a chilling voice (Paul Freeman) when his wife is  kidnapped.
Selena stars as a character known only as The  Kid, who inadvertently becomes Brent's sidekick when she attempts to steal his  vehicle.
Dressed in a gray hoodie over a black  baseball cap and jeans, the brunette beauty is seen ordering Brent to 'get out  of the car' while pointing a gun at him after opening the passenger door.
Brent is commanded by the man of mystery to  drive off with The Kid in the car, and after he refuses to kill her as  instructed, The Man says: 'Good. You will need her help if you want your wife back.'
The Kid and Brent are involved in several car chases and fight sequences and at one point Selena is seen performing a tuck and roll out of the vehicle.
In one emotional scene, a tearful Selena tells her co-star: 'I'm not dying for you.' See the trailer below.
Another Hollyweird movie I won't be wasting my money on.
DCG