The sun has already started playing itself harsh and the ravage continues every summer. SPF is essential for everyone to protect your skin from the damages of tanning, sunburns and what not. Shiseido Multi-Defense UV Protector armed with SPF 50 PA+++ is my skin savior for outdoors and is an anti-aging UV care product.
Quantity - 30 ml
Price  - INR 2100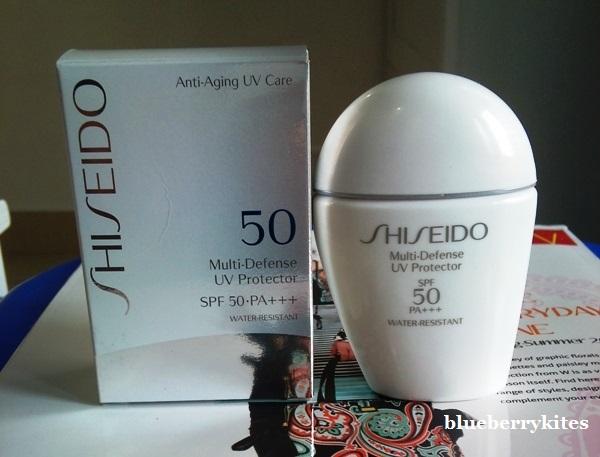 Shiseido Multi-Defense UV Protector is a water and sweat resistant, thin white fluid sunscreen which applies matte on skin. Here is some information on the packaging:
Multi-environment Defense. Comprehensive Skin Protection.
Feather-light to the touch, this highly effective lotion-type UV protector is resistant to perspiration and sebum, providing ample protection against external aggressors such as UV rays, for the maintenance of beautiful, healthy-looking skin.
Exclusive Optiveil UV technology provides advanced protection from UVA/UVB rays that may cause photo aging.
Scutellaria Baicalensis helps prevent UV damage to essential fibroblasts which produce collagen and elastin, the key elements resilient, youthful looking skin.
Rose Apple Leaf Extract helps prevent DNA damage caused by harmful UV rays.
Hydro-Restoring Complex contains moisturizing amino acids that naturally exist in skin. Provides sufficient moisture for skin that is smooth to the touch.
Thiotaurine combined with Rose Apple Leaf Extract counteracts oxidation  the damaging process which accelerates skin aging.
Free of any sticky residue, doubles as the ideal base for a long-lasting, beautiful foundation finish. Is easily removed with a daily cleanser.
The sunscreen is very light in texture and has a faint scent which I like. The scent is not detectable after some minutes and once you apply other products. The lotion is a bit runny and gives soft matte finish, not like a dry matte. Although my skin is dry, but I prefer this sunscreen as staying outside skin produces a little oil in summers which is taken care by this lotion, the skin remains matte all day.It really doesn't give any sticky residue or white cast on skin. The lotion has micro shimmer which can pass undetected by many, but sometimes you may see it in light. The shimmer is so fine and non-gritty that one does not know its there.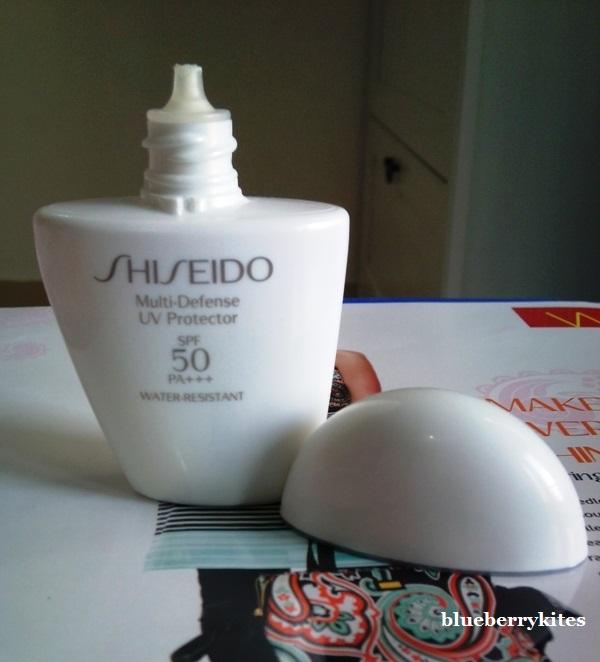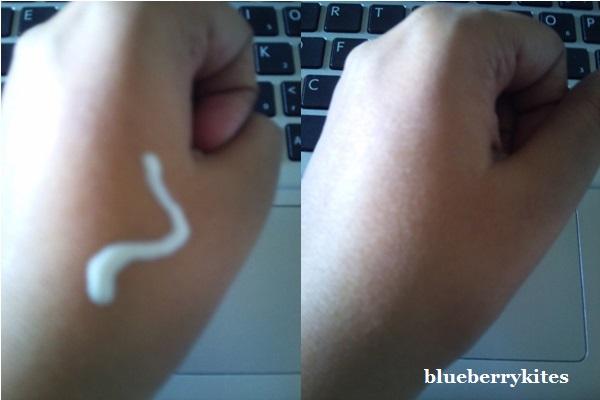 (before and after application)
Shiseido Multi-Defense UV Protector is aptly made for face with high SPF. Compared to sunscreens with SPF 15 which even if applied daily do not protect from tanning, I find that SPF 50 works far better.
It's matte lotion formula and resistance to sweat / water makes it a great product for outdoor activities and makeup base. While other sunscreens give you the greasy or ghostly face after the product melts in heat, this lotion keeps such worries at bay. The downside to this sunscreen is that it cannot be paired with oil free products, due to its dry formula. I would suggest to try this product at store or get a sample, so as to test its suitability for skin. The packaging is travel friendly in white pearlescent bottle and the nozzle tip controls the product. The bottle has to be shaken before use. In my opinion, Shiseido Multi-Defense UV Protector works very well in sweaty and dusty weather.
Recommendation - For dry skin, apply a light moisture before this sunscreen and then follow it up with your foundation. For oily and combination skin, this lotion alone might do as perfect base.