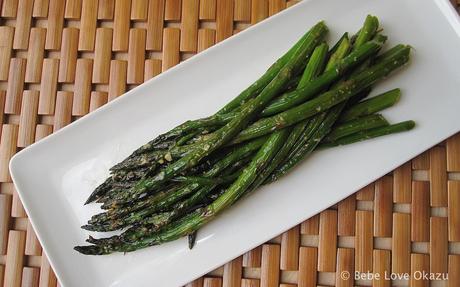 Shio koji asparagus is fresh asparagus sautéed with shio koji and olive oil. It's a really easy side dish for enjoying fresh asparagus and goes great with almost any seafood or protein.
Summer is still in full swing and we're still as busy as ever. With our schedule full of activities and fun, I haven't had much time to spend in the kitchen, other than to throw together quick and easy meals.  Shio koji works great for quick meals since you only need a small portion of shio koji and these asparagus spears can be whipped up without marinating them.
It's truly a great side dish when you're pressed for time. It also seems like "fancy" cooking , even though it's not!
You can read more about this on my About.com blog.
I'm also pleased to announce that About.com is slowly upgrading the look-and-feel of their site, and I'm noticing small changes each week but already the site looks better than when I first started writing for them. I'm looking forward to the completed site.
Enjoy your summer and treasure those precious moments. Time flies!
Print
Shio Koji Asparagus Author: 
Judy | Bebe Love Okazu
Recipe type: 
Vegetable Side Dish
Cuisine: 
Japanese
Prep time:  15 mins Cook time:  10 mins Total time:  25 mins Serves: 
2
  Ingredients
½ pound baby asparagus (about half bunch; substitute with regular asparagus)
1 tablespoon shio koji (add 1 teaspoon more if necessary to generously coat asparagus)
1 teaspoon olive oil
Instructions
Wash and trim end of the asparagus spears to remove any tough and chewy stems. At least one inch of the bottom of the stem should be removed.
In a large glass baking dish, spoon shio koji into the dish and generously coat each asparagus with shio koji.
Marinate asparagus in the refrigerator for 15 minutes. NOTE: The asparagus can be cooked immediately without marinating it, which I do sometimes.
In a large pan, heat olive oil and sauté for 7 minutes until asparagus is tender. Cover pan with lid for faster cooking, stirring occasionally.
3.2.1275