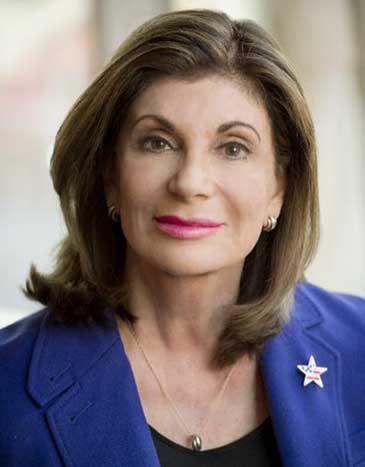 Shelley Berkley (D-NV) is just anall-around awesome Jewish woman in Congress. Born Rochelle Levine, her workingclass family moved to Nevadawhen she was a teenager because of the increased economics opportunities in theWest. She was the first member of her family to graduate from college. To putherself through school (both her undergraduate and law degrees), she worked asa keno runner and cocktail waitress in the casinos in Las Vegas. After graduating from law school,she worked for Vegas casinos as legal counsel.
Berkley's political career began in 1982-1984,when she served in the Nevada Assembly. In 1990, she was appointed as the ViceChair of the Nevada University and Community College System Board ofRegents by the governor of Nevada,and was reelected to the position twice, serving until 1998.
She has been a member of the USHouse of Representatives ever since 1998, the first time she ran for Nevada's 1st congressionaldistrict seat. (The 1st district includes most of Las Vegas and its surrounding area, which isthe home to a large Jewish community.) Berkleywon the Democratic primary with over 80% of the vote, and took the generalelection, too. She has been reelected in every election since, serving inCongress for seven terms (about fourteen years).
She is the first female congresspersonfrom her district and the second from Nevadaas a whole, and she is the first Jewish woman and second Jew to serve inCongress from Nevada.
I think it's safe to label Berkley as a friend ofwomen's rights. NARAL rates her as a 100% supporter of the pro-choice movement.She is also endorsed by the Feminist Majority PAC, EMILY's List, the Women'sCampaign Forum, and the National Women's Political Caucus. She is also a NOWsupporter and spoke at the 2004 NOW conference.
Described as a "pro-Israel hawk"by the Jewish Week, Berkleyhas ties with AIPAC and the Zionist Organization of America (ZOA). She has saidthat "Israelhas the right to continue building in its capital, inside an area that hasalways been a proposed part of a future State of Israel. As Israel's Prime Minister Benjamin Netanyahu hassaid, 'Jerusalemis not a settlement.' It is the eternal, undivided capital of Israel." Berkley has cosponsored several pieces of legislation toprotect Israeland recognize its right to self-defense.
Berkley is now running for the US Senate.After Senator John Ensign (D-NV) resigned because of a scandal about anextramarital affair he had with a staffer's wife, Republican Dean Heller wasappointed to take Ensign's vacated position as senator. Berkley will be up against Heller, who hasconsistently showed his pro-life stripes and is against gay marriage. It lookslike it will be a tight race, since polls have the two within a relativelysmall margin.
The election will be in November,the same time as the presidential election. I think there will be many veryinteresting and significant results of this election, and I'm certainly lookingforward to it!
I dub Shelley Berkley an inductee into the Shining Stars of Davida - strong women and men who make us feminists proud.